a
Naval Defense Industry News - USA, South Korea
DRS Technologies to Supply Hybrid Electric Drive System to ROK Navy FFX Batch II frigate-class
DRS Technologies Inc. announced today a contract award to design and produce a Hybrid Electric Drive (HED) propulsion system for the Republic of Korea Navy's future Incheon-class multipurpose frigate known as FFX Batch II (FFX-II).

The contract, valued at more than $9 million USD, was awarded to DRS's Maritime and Combat Support Systems group by Korea's Hyosung Corporation and will include the design, testing, and production of hybrid electric drive (HED) permanent magnet motors and associated motor drives for the first ship-set to be delivered in 2015.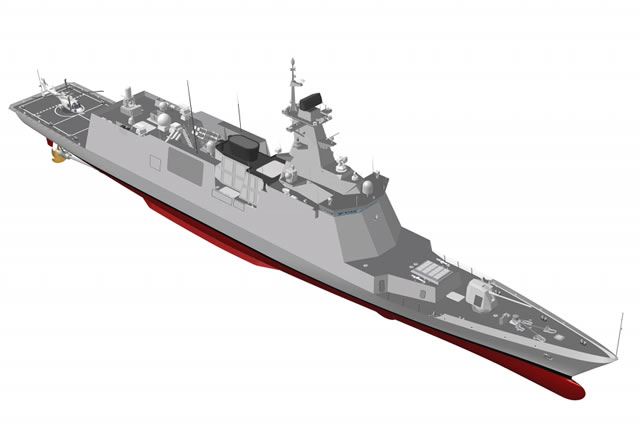 Rendering of Republic of Korea Navy future Incheon/FFX Batch II frigate-class
The Incheon-class frigates are coastal defense frigates of the Republic of Korea (ROK) Navy. The frigates are expected to replace the aging fleet of Pohang-class corvettes and Ulsan-class frigates, and to take over multi-role operations such as coast patrol, anti-submarine warfare and transport support. The first FFX-II ship is being built by Daewoo Shipbuilding & Marine Engineering and will include a DRS HED system that will allow for more efficient and quiet operation of the propulsion plant. Up to eight FFX-II ships are planned over the next several years.

DRS's HED permanent magnet motors, designed and built by DRS Power Technology, Inc. in Fitchburg, MA, have significant advantages in size, weight and power over conventional electric motors and produce more torque from the same amount of supplied current. Their smaller footprint allows more flexibility in engine room design and increased cargo space, and their simpler construction results in proven reliability and durability. The complementary naval marine advanced HED motor drives are designed and built by DRS Power and Control Technologies in Milwaukee, WI. With high efficiency performance at full and part load, these systems can provide significant fuel and maintenance costs savings, along with operational flexibility, when incorporated into a ship propulsion system.

"This is a fantastic opportunity for DRS to become a primary player in marine hybrid drive systems and to continue to expand our products into international markets," said Roger Sexauer, President of the DRS Maritime and Combat Support Systems Group. "The Korean shipbuilding industry is one of the strongest in the world and we are thrilled to now be a part of it."