a
Naval Industry News - Italy
Fincantieri launched Frigate "Carabiniere", fourth FREMM for Italian Navy
On March 29th at the Riva Trigoso (Genoa) Fincantieri launched frigate "Carabiniere", the fourth in a series of 10 FREMM - European Multi-Mission Frigates, commissioned from Fincantieri by the Italian Navy under the international cooperation between Italy and France, with the coordination of OCCAR, the joint organization for European cooperation in the field of armaments.

The ship was christened "Carabiniere" to celebrate the occasion of the 200th anniversary of the founding of this famous Italian force.

FREMM Carabiniere
Picture: Fincantieri
The ceremony was attended, among others, Roberta Pinotti, Minister of Defence, Admiral Luigi Binelli Mantelli, Chief of the Defence Staff, the Admiral Giuseppe De Giorgi, Chief of Staff of the Navy, the General Army Corps Claudio Graziano, Chief of Army Staff, General of the Air Force Precious Pasquale, Chief of Staff of the Air Force, General of the Army Corps Leonardo Gallitelli, Commanding General of Police, Giovanni Gorno Tempini, CEO of Deposits and Loans Fund, Vincenzo Petrone and Joseph Bono, President and Chief Executive Officer of Fincantieri.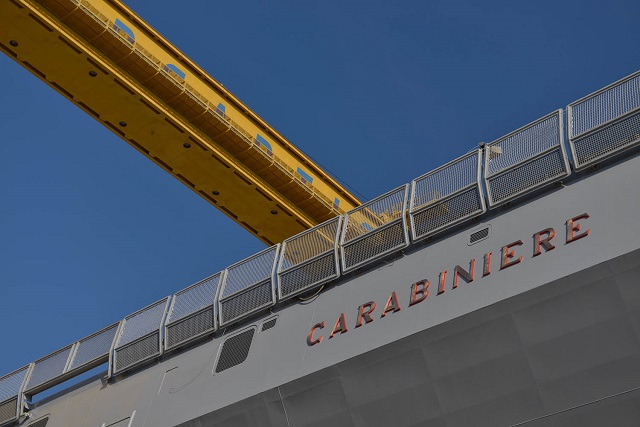 FREMM Carabiniere
Picture: Fincantieri
Following the launch , the unit will continue its activities in preparation of the Integrated Military Naval Shipyard on the site Muggiano , in La Spezia , and will be delivered in early 2015. Carabiniere will be characterized by high flexibility in use and will have the ability to operate in all tactical situations . It has a length of 144 meters , a width of 19.7 meters and a full load displacement of about 6,700 tons. It can reach a speed of over 27 knots with a maximum capacity of personnel transported up to 200 people .

Carabiniere will be specialize for anti-submarine warfare, like FREMM Virginio Fasan and Carlo Margottini. The first ship of the class Carlo Bergamini is in "general purpose" configuration.