a
BALT MILITARY EXPO 2014 Show Daily - DAMEN
DAMEN Showcasing its SIGMA family at Balt Military Expo 2014

Following the successful delivery of a number of SIGMA (Ship Integrated Geometrical Modularity Approach) corvette/frigates to the navies of Indonesia and Morocco, Damen is introducing a new Compact SIGMA line.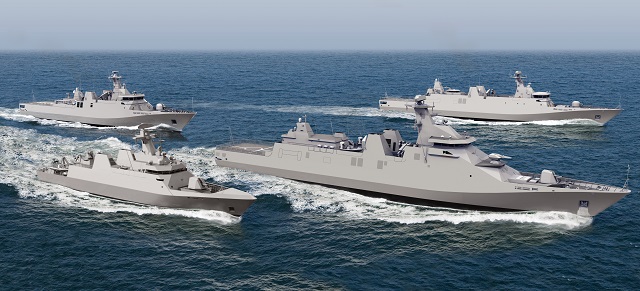 Damen SIGMA family of corvettes
The SIGMA design and construction concept seeks to achieve a 'standardised' design that retains sufficient flexibility to meet individual customer needs, but is sufficiently low-risk in its engineering, competitively priced and deliverable in a relatively short time frame. This idea is underpinned by the widespread adoption of commercial standards and the use of standard hull modules. With the Compact SIGMA, Damen is now aiming to engineer a smaller but still highly capable design that delivers high speed, good manoeuvrability and excellent seaworthiness, while maintaining the low noise and vibration levels already demonstrated in larger SIGMA vessels.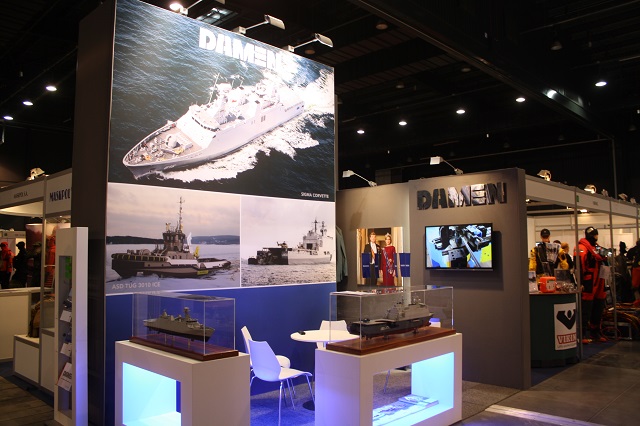 DAMEN stand at Balt Military Expo 2014
Reduced maintenance
Ranging from 59 metres to 87 metres in length and from 600 tonnes to 1,500 tonnes displacement, the Compact SIGMA design portfolio allows for scaled capability – from constabulary duties through to high-end warfighting – with a choice of weaponry and sensors. Additionally, the Compact SIGMA philosophy places an emphasis on reduced maintenance and manning requirements to optimise costs through life.

In-country technology transfer
Recognising the increasing importance of in-country technology transfer and capitalising on experience gained during the SIGMA build process, Damen has developed a new production methodology, known as OMEGA (Open Module Equipment Guided Assembly), to enable Compact SIGMA series vessels to be built in local facilities. Designed to streamline the entire project plan from design to purchasing and production, the OMEGA construction scheme is based on completing a welded and painted hull, while leaving full access to enable subsequent outfitting.

Flexibility in the choice of equipment
All major systems and outfitting components – such as the engines, gearbox, shafting, steering gear and other auxiliary systems – are installed through access openings in the hull structure and as applicable built on skids for quick and easy mounting.
Therefore, the OMEGA approach allows for more flexibility in the choice of equipment type and vendor. Indeed, Damen sees sequential assembly as beneficial for system design, purchasing and for the preparation of equipment installation.