a
BALT MILITARY EXPO 2014 Show Daily - EXOFIN
Polish company EXOFIN introduced some innovative folding fins at Balt Military Expo 2014

At the 13th Baltic Military Fair BALT-MILITARY-EXPO 2014 currently held in Gdansk, Poland, local company EXOFIN presents some unique folding fins designed for special forces. The company based in Gdynia used modern materials such as kevlar, titanium and carbon to match the requirements of special forces and come out with a product combining low weight, excellent hydrodynamic properties all in a small size.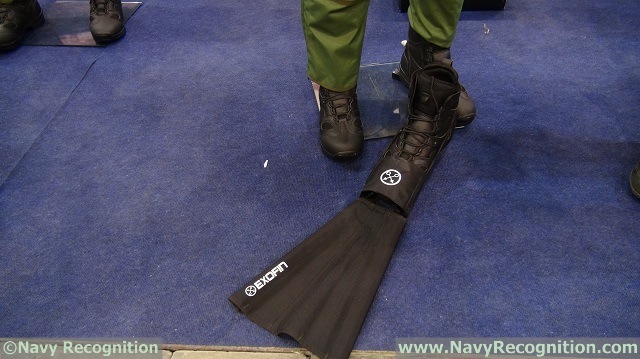 EXOFIN folding fin at Balt Military Expo 2014
When folded, the width of an EXOFIN is merely 6 centimeters. The pair of fins can then easily fit inside a tactical vest for special forces. It takes only one step to deploy the fin and lock it in position. The fin can then easily be installed even when wearing tactical boots.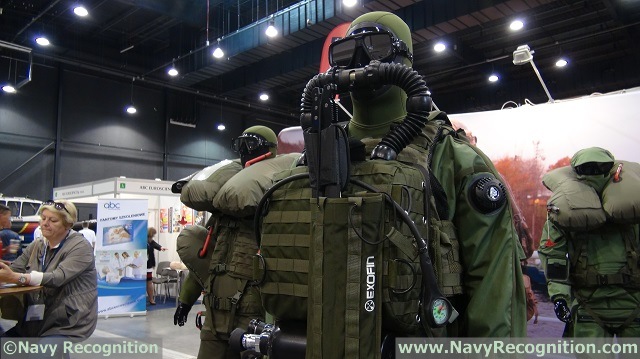 EXOFIN in a tactical vest at Balt Military Expo 2014
The AquaShield ER unique modular design enables tailoring of the system to customer requirements and site specific geography. The combination of a fully automatic mode of operation, very low maintenance requirements and high system reliability create a highly cost-effective system.