a
World Navy Force News - USA
USS San Diego landing platform dock (LPD-22) completes Navy trials
The amphibious transport dock San Diego—also called LPD 22—has successfully completed its Navy acceptance trials, Ingalls Shipbuilding said. Shipbuilders will spend the next month putting the final touches on the LPD 17-class vessel to be delivered in mid-December

San Diego will be homeported in its namesake city, joining USS New Orleans and USS Green Bay.

The San Diego completed a two-day sea trial on Thursday, the shipyard said Friday.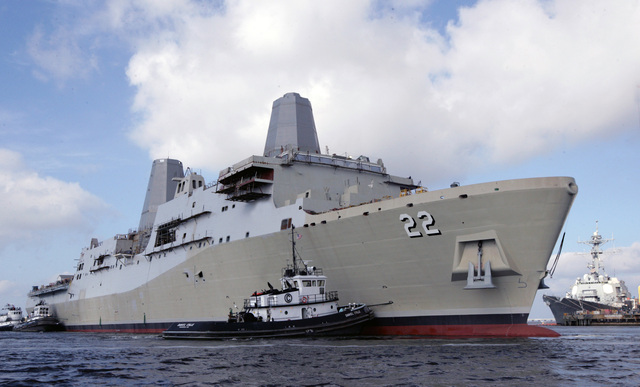 San Antonio-class landing platform dock USS San Diego (LPD-22)
(picture: US Navy)
Sea trials test the ship's main propulsion, steering, communications suite and deck missions systems. Tests on anchor handling, ballasting/de-ballasting the well deck and ventilation systems were also performed at sea.

"It's amazing what 25,000 tons of steel can do sailing through the Gulf of Mexico," said Doug Lounsberry, vice president and program manager of the LPD 17 program.

The 684-foot-long vessel's primary mission is to transport up to 800 Marines, their fighting vehicles and aircraft.

It is the sixth in the LPD 17-class built by Huntington Ingalls Industries Inc.'s Ingalls Shipbuilding division.
From: mercury news