a
World Navy Force News - Iran
Iran Equips Navy with Highly Advanced "Qader" (Mighty) Anti-Ship Cruise Missile
The Iranian Defense Ministry on Wednesday supplied a large number of highly advanced coast-to-sea cruise missiles to the Army's naval forces. The missiles were delivered to the Navy in a ceremony attended by Iranian Defense Minister Brigadier General Ahmad Vahidi and Navy Commander Rear Admiral Habibollah Sayyari.

The move came on the verge of the National Navy Day on November 28.

Tehran launched an arms development program during the 1980-88 Iraqi imposed war on Iran to compensate for a US weapons embargo. Since 1992, Iran has produced its own tanks, armored personnel carriers, missiles and fighter planes.

Yet, Iranian officials have always stressed that the country's military and arms programs serve defensive purposes and should not be perceived as a threat to any other country.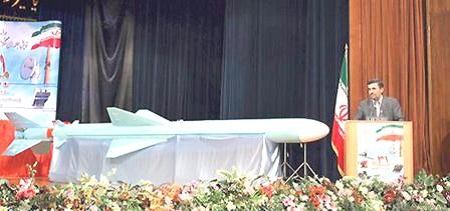 Iranian "Qader" Anti-ship Cruise Missile
(picture: Internet)

Late in September, the Iranian Defense Ministry supplied large numbers of the newly produced powerful ant-ship cruise missile, namely Qader (Mighty), to the naval forces of the Army and the Islamic Revolution Guards Corps (IRGC) to boost Iran's naval power.

Iranian defense minister said at the time that Qader is an anti-ship cruise missile with a range of 200km and enjoys a short launch time and is able to hit all naval vessels, including frigates and warships, as well as onshore enemy targets.

Iran's naval power has even been acknowledged by foes. In a Sep. 11, 2008 report, the Washington Institute for the Near East Policy said that in the two decades since the Iraqi imposed war on Iran, the Islamic Republic has excelled in naval capabilities and is able to wage unique asymmetric warfare against larger naval forces.

According to the report, Iran's Navy has been transformed into a highly motivated, well-equipped, and well-financed force and is effectively in control of the world's oil lifeline, the Strait of Hormuz.