a
World Navy Force News - Iran
Iranian Navy Receives 3 new Ghadir-Class Midget-Submarines
The Iranian Navy expanded the fleet of its submarines after it received three more Ghadir-class submarines today, Iranian Army's Navy Commander Rear Admiral Habibollah Sayyari announced on Saturday. Speaking to reporters in a press conference here in Tehran on Saturday, the Navy commander underlined that all parts of the submarines have been designed and manufactured by Iranian experts.

"All parts of these submarines, including their body and their advanced radar equipment and defense systems, have been designed and manufactured by our country's defense experts and with the help of the Defense Ministry," he said.

Iranian commanders had earlier said that Ghadir-class submarines boosted the Navy's capability in defending the country's territorial waters.

The submarine has been designed and manufactured according to the geographical and climate conditions and specifications of Iranian waters, according to military experts.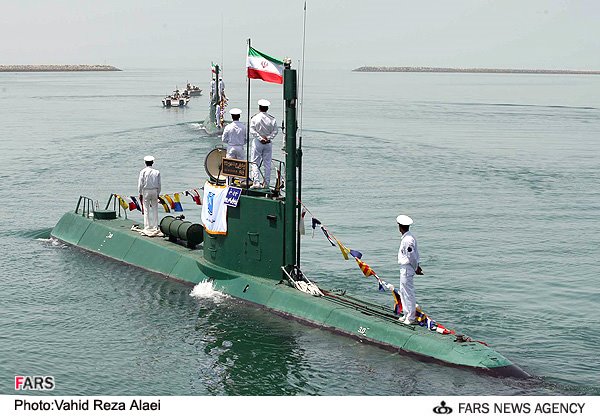 Qadir (Ghadir) class submarine
(picture: Fars News)
Last August Iran launched four light and advanced submarines. The Ghadir-class submarines, made by the Defense Ministry's Marine Industries, officially joined Iran's naval fleet in an official ceremony attended by Iranian Defense Minister Brigadier General Ahmad Vahidi and Rear Admiral Sayyari.

Iran announced in June 2009 that a home-made submarine, named Ghadir 948, had joined the naval brigade of the first naval zone.

In November 2009, Iran announced that its first domestically built Ghadir class submarine launched operation.

The Iranian military officials said that the submarine can easily evade detection as it is equipped with sonar-evading technology and can fire missiles and torpedoes simultaneously.

Ghadir class submarines displace 120 tonnes with a length of 29 m. They are specifically design for the shalow waters of the Persian Gulf. There are 17 submarines of this class in service.