a
Naval Defense Industry News - Norway, Sweden
SAAB chooses KONGSBERG sonar and multibeam systems for Gotland class SSK overhaul
Defence and security company SAAB has selected a cutting-edge Kongsberg Maritime hydroacoustic package for installation on two Swedish A19 submarines. The delivery will consist of SA9510S Mine Avoidance and Navigation Sonar for submarines and the leading EM 2040 Dual RX multibeam echosounder.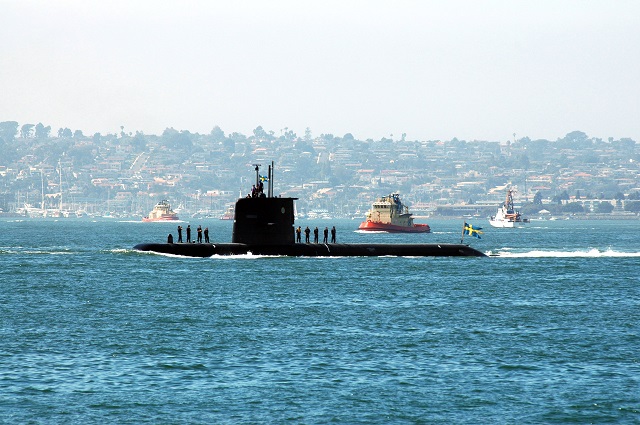 The Swedish diesel-powered attack submarine HMS Gotland transits through San Diego Harbor. Picture: US Navy
The main purpose of the SA9510S sonar is to detect mines, obstacles and the sea-floor in a wide swath ahead of the submarine. The sonar generates target warnings or alarms with sufficient time available to perform an avoidance manoeuvre. It is a vital tool providing information to crew for bottom navigation purposes and for submerged navigation. The SA9510S sonar has the ability to detect and display the bottom profile in several selected horizontal directions in front of the submarine. Mine-seeking and submerged navigation can be performed simultaneously.
The EM2040 Dual RX to be delivered is an enhanced version of the leading EM2040 multibeam echosounder system. The EM 2040 Dual RX features two TX-Transmitters and two RX-Receivers and is designed for mapping in shallow areas at higher speed. It will provide A19 crews with accurate survey data and excellent range performance (both depth and swath width) at the highest resolution available in the market.
"With this sonar solution selected for both the Swedish submarines and Norwegian submarines, Kongsberg Maritime will have delivered active navigation sonars to the two leading submarine nations specialising in operation in shallow water," comments Thomas Hostvedt Dahle, Product Sales Manager Naval sonars in Kongsberg Maritime. "This contract features our state-of-the-art navigation and avoidance sonar in addition to our flagship multibeam system. It strengthens Kongsberg Maritime's position as a leading supplier of sonars with special capabilities for operation in littoral waters, whilst demonstrating the effectiveness of our standard products adapted for military operations."
In March 2013, Kockums (now part of Saab) received an order for an overhaul for two of the Gotland-class submarines. The overhaul is expected to be completed by 2017. With these upgrades, the submarines will be able to remain in active duty until after 2025. On 2 April 2014, the Swedish defence minister announced that all three submarines are to be overhauled.
It was announced earlier this month that American company
Exelis would supply new EW systems
for the Gotland class overhaul.