a
Naval Forces News - Australia
HMAS Canberra Well Dock Receives an LCM-E Landing Craft for the First Time
The idea of a ship letting 4,200 tonnes, or 4.2 million litres of water into a large space inside its stern may sound crazy, but for the Landing Helicopter Dock, that is exactly what happens when the ship 'docks down'. Docking down allows the ship to get into a position to launch or recover its landing craft, of which it can house four. Canberra's Engineering Officer, Commander David Walter, explained the process in simple terms.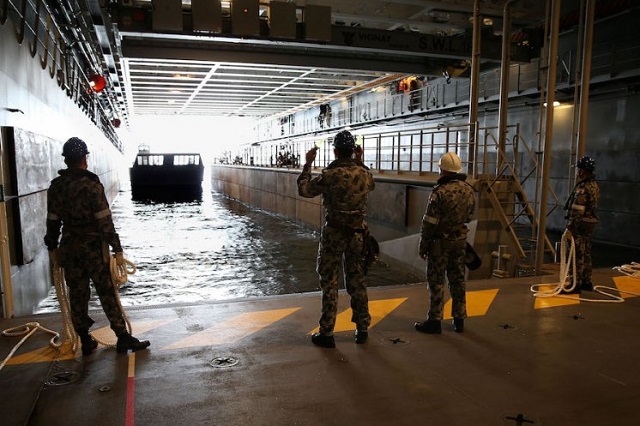 HMAS Canberra's Well Dock receives the first of four of the ship's Landing Craft for the very first time.
Picture: Royal Australian Navy
"How it works is we sink the back end of the ship by filling with water an empty ballast tank which is under the well dock.

"We then use valves which connect the ballast tank with the open water outside and let in more water into the tank, while at the same time opening the stern door and letting the water fill the well dock.

"The amount of water that we add to dock down and fill the well dock is equivalent to the weight of one Anzac class frigate," Commander Walter said.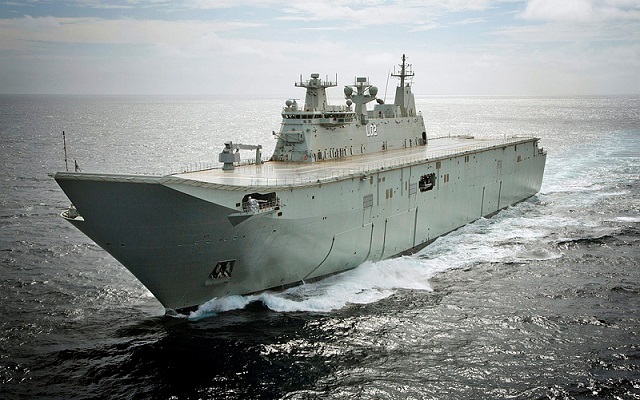 The largest ship ever built for the Royal Australian Navy, Landing Helicopter Dock HMAS Canberra
Picture: Royal Australian Navy
The amount of water that sits in the well dock when full is around four Olympic sized swimming pools.

"After the ship is docked down enough ready to bring water into the well dock, it only takes a short time to fill," he said.

Once the four landing craft are inside the ship and secured, the stern door is closed. The well dock is then drained of water leaving the vessels in their resting place.

The well dock is drained using drainage pumps which remove the water from the ship. The ballast is levelled again by transferring water out of the ballast tank which brings the ship to its normal operating state.

HMAS Canberra will provide both amphibious and humanitarian aid and disaster relief capability once she is certified for tasking later this year.