a
Naval Industry News - France, Egypt
Updated: Egypt About to Sign Contract for the Purchase of a FREMM Frigate & 24 Rafale from France
According to French daily newspaper
Le Monde
the agreement between Egypt and France for the procurement of 24
Rafale aircraft
from Dassault Aviation, a
FREMM multi-mission frigate
from DCNS and missiles from MBDA, has been initialed by all parties today. The last step of this contract amounting to more than 5 billion Euros is the official signature by Egyptian President Abdel Fattah Al-Sissi and by a French state representative (the President or the minister of defense).
According to
Le Monde
and Reuters, this last step could happen on Monday 16 February.
Update:
On Thursday night, the French President François Hollande issued the following statement:
The Egyptian authorities have just let me know today of their intention to acquire 24 Rafale combat aircraft and a multi-mission frigate and associated equipment. This equipment will allow Egypt to increase its security and play a full role in favor of regional stability.

The Rafale fighter won its first export contract.

The [French] State is fully committed to this negotiation and its involvement has enabled the conclusions of this contract.

The signing will take place in Cairo on [Monday] February 16 and I asked the French Defence Minister Jean-Yves Le Drian, to sign on behalf of France.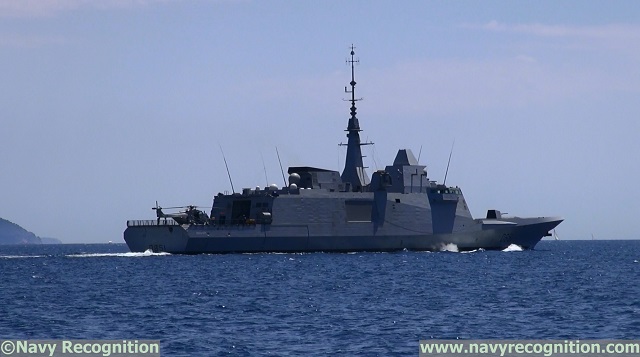 FREMM Frigate Normandie during sea trials in the Mediterranean Sea
The first rumors about the procurement of a FREMM Frigate by Egypt emerged last fall
as we reported
. Various French sources still claim that the Aquitaine class Frigate to be sold is
Normandie
which was set to be delivered to the French Navy by year end and which still has to conduct the first ever MBDA-made Naval Cruise Missile live firing test. Other sources have speculated that the
Normandie
will just be flying the Egyptian flag during a military parade this summer (and French Air Force Rafales will receive Egyptian Air Force roundels for the occasion and fly at the parade) and another Frigate will actually be delivered to the Egyptian Navy.
The main "technical" issue is that Egypt wants the Frigate and Rafales quickly, however vessel's crew and jet pilots training will be a lengthy process (probably involving DCI which specializes in military training and transfers French military know how). Complex systems such as the DCNS FREMM or the Dassault Rafale cannot be mastered in a mere few weeks.
Contacted by Navy Recognition, DCNS didn't wish to comment on the rumor.