a
Naval Defense Industry News - France
Thales welcomes the selection by Egypt of the FREMM multi-mission Frigate
Thales welcomes the selection by Egypt of the Rafale omnirole combat aircraft and the
FREMM
multi-mission frigate, which will both equip the Egyptian forces. Twenty-four Rafale aircraft and one FREMM frigate have been ordered by the Egyptian authorities.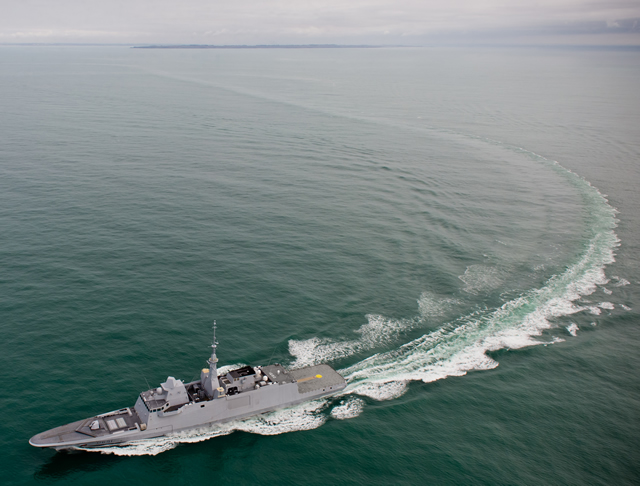 The FREMM Normandie during sea trials
Picture: DCNS
Thales provides numerous pieces of state-of-the-art equipment and systems for the Rafale, the FREMM and their respective armaments. They represent around 25% of the total value of the Rafale and 20% of the FREMM.
The Thales systems developed in collaboration with DCNS on board the FREMM derive from the latest state-of-the-art technology. For this multi-mission frigate, Thales provides the Herakles multi-function radar, the communication suite, the anti-submarine sonar suite (ASM), the Artemis infrared search & track system (IRST) and the electronic warfare system (RESM/CESM). This equipment reinforces the anti-air, anti-naval and anti-submarine combat capabilities of the FREMM.
For this contract Thales will also provide missile electronics and inertial systems.
Link to FREMM Frigate (Aquitaine class) technical datasheet