a
Naval Force News - China
Sixth and last Type 052C Destroyer commissioned into Chinese Navy (PLAN)
According to the official People's Liberation Army Navy (PLAN) newspaper "People's Navy Daily", the sixth Type 052C Destroyer (NATO designation Luyang II class) named
Xi'an
was commissioned into the PLAN on February 9.
Xi'an
with hull number 153 is the last Type 052C Destroyer of the series. From now on, the PLAN will commission improved and more powerful destroyers such as the
Type 052D
and the future Type 055.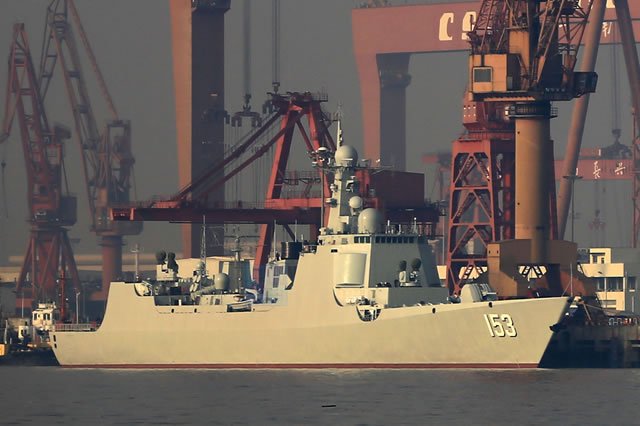 Type 052C Destroyer Xi'An (hull number 153) at the Changxing Jiangnan naval shipyard near Shanghai. It is the last destroyer of this type.
The first two Type 052C vessels
Lanzhou
(hull number 170) and
Haikou
(hull number 171) were laid down at the older Shanghai shipyard in 2002 and handed over to the PLAN, in July 2004 and December 2005 respectively. The program was then paused until 2010 probably because of construction difficulties due to the complex nature of these vessels.
Construction restarted at the new shipyard (Changxing Jiangnan) in November 2010 with the third destroyer
Changchun
(hull number 153). It was delivered to the PLAN in January 2013. It was followed at a fast pace by two more Type 052C:
Zhengzhou
(hull number 151) commissioned in December 2013 and
Jinan
(hull number 152) commissioned in December 2014. With the commissioning of
Xi'An
, the Type 052C program is now over. The last four destroyers of the class are part of the Eastern Fleet while the first two belong to the PLAN's South Sea Fleet.
The first
Type 052D
(Luyang III class) destroyer was commissioned in
March last year
. Two more destroyers of this type are currently conducting sea trials while Navy Recognition's Chinese sources indicate that at least six more Type 052D destroyers are at various stages of constructions in Chinese shipyards.
In addition, construction of the first Type 055 new generation PLAN destroyer
may have just started
.