a
Naval Forces News - Japan, France, USA
Japan, France and the United States Conducted A Joint Amphibious Exercise For the 1st Time
The French Navy (Marine Nationale) announced it has conducted joint amphibious maneuvers with the Japan Maritime Self-Defense Force (JMSDF) and the US Navy last month in the East China Sea. Named Kitsune 2015, the exercise (which was a first for the three navies) involved the
Mistral class LHD
Dixmude
and
Lafayette class Frigate
Aconit
of the French Navy, the
Osumi
(head of the class) tank landing ship of the JMSDF and Arleigh Burke-class destroyer
USS Preble
of the US Navy.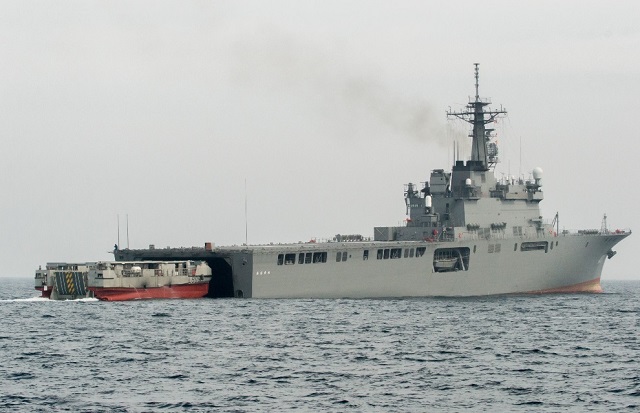 A French Navy EDA-R Landing Catamaran about to enter the well deck of the JMSDF Osumi LST.
Picture: French Navy

The first day of Kitsune 2015 (May 16, 2015) was devoted to helicopter flights and tactical maneuvers between the four vessels. From 8:30 am, the exercise began with transfers between the military of the three nations. Puma helicopter flight between the French LHD and Japanese LST allowed the exchange of Japanese and French sailors. Then around 9 am, a US Navy helicopter landed on the
Dixmude
with the commander USS
Preble
on board. The exercise continued with joint tactical maneuvers.
On 17 May 2015, the Japanese and French vessels were prepared to exchange their landing craft."This exercise strengthens our interoperability," said the officer in charge of the organization of Kitsune. At 8:30 am, a JMSDF Landing Craft And Cushion (LCAC) went on board the
Dixmude
LHD. It was followed by a second one (two JMSDF LCACs went inside the
Dixmude
).
The JMSDF could also experience and see the French Navy sea to shore connector, the
EDA-R/L-CAT (Landing Catamaran)
, when it went inside the
Osumi
LST. The French Navy operates four landing catamarans (designated EDA-R in the French Navy) which act as sea to shore connectors for the three Mistral class LHDs.
Navy Recognition learned during Sea-Air-Space 2015 that the L-CAT is being proposed to the US military by its designer, CNIM, along with a US Partner.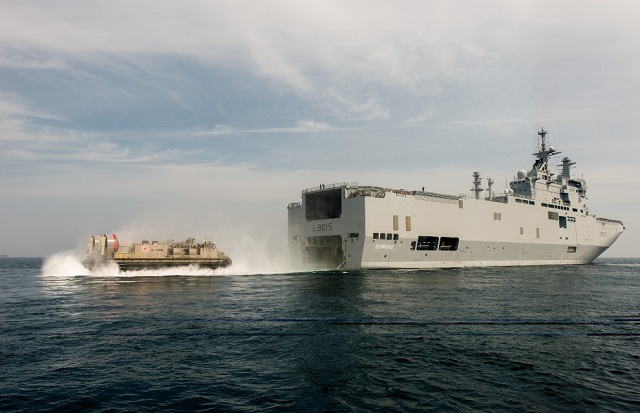 A JMSDF LCAC about to enter the well deck of the Dixmude LHD.
Picture: French Navy
Following the amphibious maneuvers, a Japanese CH47 Chinook helicopter brought the commander of the US 7th Fleet (Vice Admiral Robert L. Thomas) and the JMSDF commander (Admiral Tomohisa Takei) aboard Dixmude. The meeting was aimed at strengthening the relationships between France, the USA and Japan.

The admiral commanding the French Navy Pacific fleet (who is on board Dixmude) congratulated the crew for the success of this exercise "that required extreme preparation and the performing of complex maneuvers."

The French Navy press release ends with the following:
Identified as a major strategic area in the White Paper (on Defence) of 2013, the Pacific is an area of shared interest with our American and Japanese partners. Operating in the context of its pre-positioned Forces in French Polynesia and New Caledonia and the deployment of a permanent maritime command in the Asia-Pacific area of responsibility (ALPACI), France supports a rich bilateral and multilateral cooperation with allied countries. Among regional partners, Japan is among those with which France has an increased strategic dialogue since 2014. Militarily, this cooperation is mainly based around the exchange of expertise and training activities and follows Japan's increasing willingness to participate in multilateral interactions.