a
Naval Forces News - USA, Russia
USS Ross Incident with Russian Su-24 Aircraft and Bastion Coastal Battery in Black Sea
Several Russian news outlets reported that Russian forces forced the U.S. Navy Arleigh Burke-class guided-missile destroyer USS Ross (DDG-71) out of Russian waters near Crimea in the Black Sea.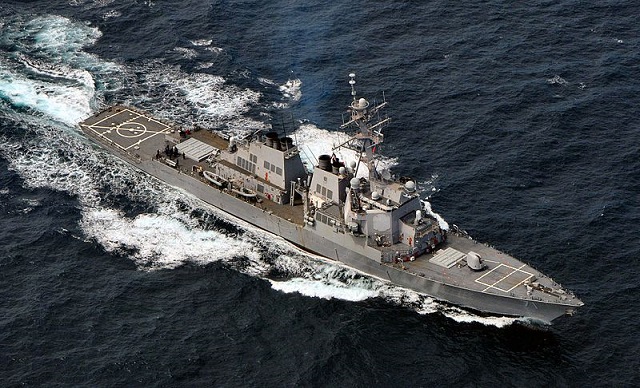 File US Navy picture of guided missile destroyer USS Ross (DDG 71) underway
According to TV Zvezda, Politonline.ru and others, sources in the Russian Defense Ministry said that the U.S. Navy Destroyer was "locked in" in missile guidance mode by an attack aircraft of the Russian Federation air force and that the Su-24 was fully loaded. The sources added that USS Ross was even "illumintated" by a K-300P Bastion (NATO reporting name SSC-5) coastal missile system.

According to Russian media and sources, USS Ross "changed course" and retreated.
USS Ross in the Black Sea with Russian Su-24 on June 1, 2015
(U.S. Navy video Commander, U.S. Naval Forces Europe-Africa/U.S. 6th Fleet)
The U.S. Navy has a different interpretation of the encounter and issue a statement on USS Ross (DDG 71) Interaction with Russian Aircraft:

USS Ross (DDG 71), forward-deployed to Rota, Spain, is on a routine patrol conducting naval operations with allies and partners in the U.S. 6th Fleet area of operations in order to advance security and stability in the Black Sea region.

Ross observed the routine flights of SU-24 aircraft and had no interaction while both operated in international waters. Ross continued on her mission after observing the aircraft return to base. At no time did Ross act aggressively nor did she deviate from her planned operations. The conduct of her crew has been and continues to be professional.

The U.S. Navy operates ships in the Black Sea on a routine basis, consistent with the Montreux Convention and International Law.

The U.S. Navy even released a video showing the Russian Su-24 aircraft flying past the right side of USS Ross in the Black Sea. The video was distributed to make clear that the airplanes and ship had a routine encounter, contrary to Russian reports. It shows a warplane approaching from the distance and then quickly zooming past the American vessel.