a
Naval Forces News - Finland
Finnish Navy received its first three U-700 "Jehu" class boats from Marine Alutech
On June 3rd, the Finnish Navy received its first three U-700 class (Watercat M18 AMC) landing ships in Raseborg. The new ship class is called "Jehu". The Finnish Navy has ordered a total of 12 boats from Marine Alutech Oy Ab. "Jehu" is a fast multipurpose boat that has both a large-scale transport capacity and effective countermeasure systems. The ships can be used for troop transports, medical and evacuation tasks, landing, sea surveillance and escorting tasks, as well as for battle and battle support missions. The "Jehu" boats can be used both in the archipelago and coastal areas and on the high seas.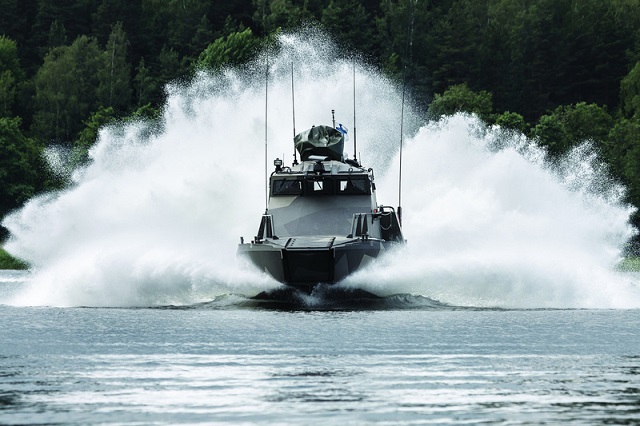 The latest vessel developed by Marine Alutech is the Watercat M18 armored modular craft (AMC). This is a new landing craft which is designed to fulfill all modern requirements for future combat support vessels. It has been recently announced that Marine Alutech will deliver 12 pcs of these Watercat M18 AMC multipurpose high-speed landing crafts to Finnish Navy during 2014-2016. The vessels will be powered by two 660kW Scania diesel engines and feature Rolls-Royce waterjet propulsion.
The boats are equipped with ballistic and CBRN (Chemical Biological Radiological Nuclear) countermeasure systems. Additionally the "Jehu" boats are equipped with a Remote Weapon Station (RWS), which can be connected to several kinds of weapons.

Marine Alutech is the leading designer and manufacturer of fast patrol boats and government vessels (under 20 m) in North Europe. Company is specialized for boat design, manufacturing and after sales.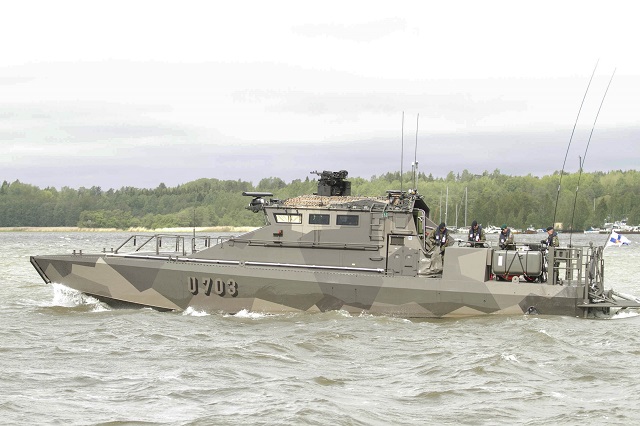 The Watercat M18 AMC is suitable for troop transportation, medical and evacuation tasks, landing operations, patrolling and escort tasks, as well as combat and battle support scenarios. The vessel has been specially designed for archipelagic, coastal and offshore conditions with an effective heating and air-conditioning system allowing heat and extreme cold, arid or humid climates.
Based on the long experience and high competence, Marine Alutech serves with high-quality products for maritime safety and the defense organizations worldwide. High-quality products and the concept provided by Marine Alutech are enabling the efficient and reliable operation throughout the long product life cycle and high resale value.

Watercat M18 AMC general characteristics:
Length 19,90 m
Beam 4,30 m
Draught 1,10 m
Displacement 32,0 ton (full load)
Speed >35 kn
Range >200 nautical miles

Construction material
Hull and deck: Aluminium
Superstructure Composite

Navigation system
Satellite navigation and positioning systems, radar, forward looking sonar, depth sounder, AIS, autopilot and onboard camera monitoring system.

Communication system
Comprehensive radio equipment such as sea, authority, military and data communications (Inmarsat-C). Onboard communication is provided by an intercom system.