a
World Navy Force News - USA
Raytheon Awarded $60 Million for San Antonio-class landing platform dock USS John P. Murtha
Raytheon Company (NYSE: RTN) has been awarded a $60.3 million U.S. Navy contract to develop and integrate the total ship electronics systems for LPD 26, the 10th ship of the Navy's LPD 17 class of expeditionary warfare ships.

Under the contract, Raytheon Integrated Defense Systems extends its role as the total ship electronics systems integrator for all LPD 17-class ships. Raytheon will provide the Shipboard Wide Area Network; engineering and ship control systems; navigation data distribution system; magnetic signature control system; wire-free portable and integrated voice communication systems; and the AN/SPS-73 navigation radar.

"Raytheon's advanced and reliable ship systems integrated onboard the LPD 17 class continue to demonstrate proven and predictable performance," said Kevin Peppe, Raytheon IDS' vice president of Seapower Capability Systems. "Leveraging the technology advancements, experience and success gained on the LPD 17, DDG 1000 and CVN 78 programs, we continue to deliver mature, common and affordable solutions for the U.S. Navy's family of ships."

This contract follows the successful U.S. Navy sea trial of the San Diego (LPD 22), during which Raytheon's integrated ship systems performed as designed, meeting all performance requirements.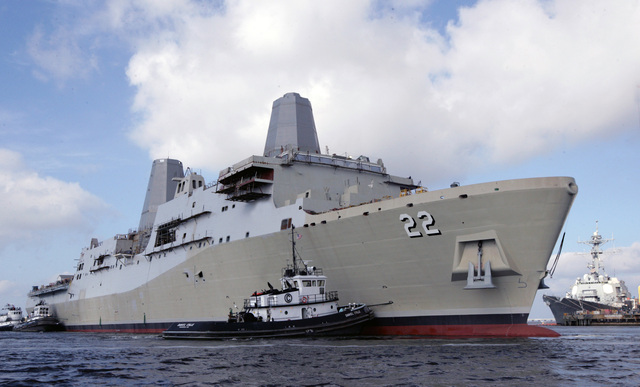 San Antonio-class landing platform dock USS San Diego (LPD-22)
(picture: US Navy)
Predictable Performance and Full Life-cycle Support
In addition to its total ship electronics systems integrator role, Raytheon is the prime contractor for life-cycle engineering and support of Raytheon-designed and developed equipment for the LPD 17 class. As the trusted partner for LCE&S since 2005, Raytheon manages the large-scale integration, maintenance, upgrades and service support for these critical ship systems.

Raytheon recently delivered the Ship Self-Defense System MK 2 open-architecture combat management system for LPD 26, which leverages technology and investment from the Total Ship Computing Environment Infrastructure developed for the DDG 1000 Zumwalt-class destroyer.