a
World Navy Force News - India
Russian Carrier "Admiral Gorshkov" Ready for India After Eight Year Wait
A Russian aircraft carrier which is being refurbished for the Indian Navy will begin sea trials in May for the first time in two decades and is to be handed over to India by December 2012, a shipyard official said on Tuesday.

The purchase of the Soviet-built Admiral Gorshkov was agreed in 2004 with delivery initially due for 2008. The delivery date slipped on numerous occasions and the final price for the ship has more than doubled.

The cost of refurbishing Gorshkov, to be renamed INS Vikramaditya, has gone up from $947 million to $2.3 billion.

"The vessel is expected to undertake sea trials at the end of May," Sergei Novosyolov, deputy director of the Sevmash shipyard in the far northern port of Severodvinsk, which is refitting the 45,000-ton ship which Russia took out of service in 1992.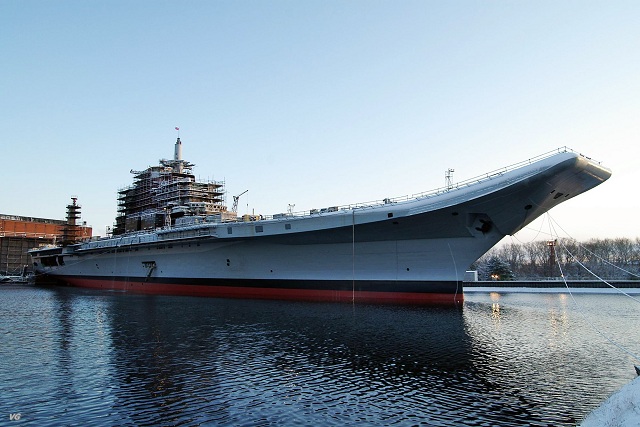 INS Vikramaditya, ex-Admiral Gorshkov during refit
(picture: internet)
Russia is one of India's largest suppliers of military hardware.

Ninety-six Indian specialists are currently being trained to operate the ship, Novosyolov said, adding that the final number of those to be trained is 1,401.

Last week, a Russian military source said Russia would hand over the nuclear-powered Nerpa submarine to India by the end of the month.