a
Naval Industry News - Germany, Algeria
Powerful German built MEKO A-200 AN Frigate for Algerian Navy to Start Sea Trials
The first of two MEKO Frigates built by Germany's ThyssenKrupp Marine Systems (TKMS) in Kiel appears ready to start her first sea trials according to ship spotter pictures. The vessel, designated MEKO A-200 AN Frigate, was launched in early December 2014. Algeria ordered two frigates (with an option for two more) in March 2012. The weapons fit selected by the Algerian Navy is quite powerfull for this type of vessel.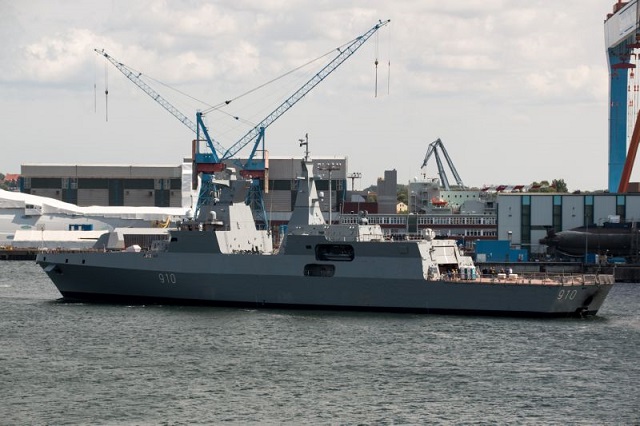 Picture showing the first MEKO A-200 AN frigate for Algeria with most of its systems fitted (except for the anti-ship missiles) and ready to start sea trials. Picture taken on 18/07/2015. Via BMPD/Forcesdz
The deal also included 6 AgustaWestland Super Lynx 300 maritime helicopters. Navy Recognition learned during a visit at a Thales Underwater Systems site last year that three of the Lynx helicopters will be fitted with Compact FLASH dipping sonars. According to various sources, the Lynx will be fitted with MU90 torpedoes and Denel Mokopa air to surface missiles. These helicopters will be dedicated to the MEKO frigates.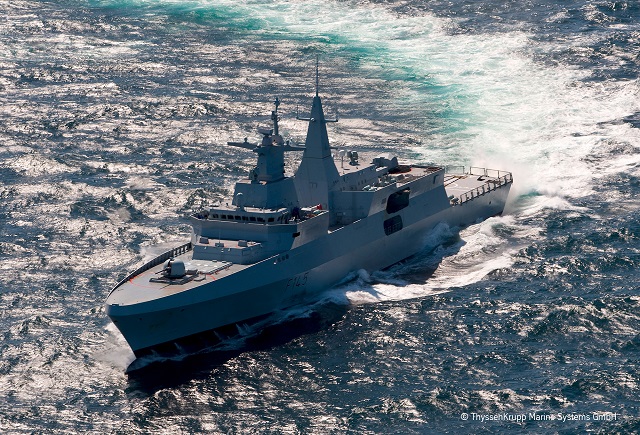 File picture of a MEKO 200 frigate (Valour class MEKO A-200SAN of the South African Navy)
Various types of MEKO 200 frigates have been sold by Blohm + Voss/TKMS since the mid-eighties. Algeria would follow the navies of Australia, New Zealand, Greece, Turkey, South Africa and Portugal who all operate the MEKO 200 family.

The MEKO A-200 AN appears to be based on the South African Navy Valour class (MEKO A-200 SAN). The A-200SAN design received some improvements compared to older MEKO 200 vessels including new signature reduction measures.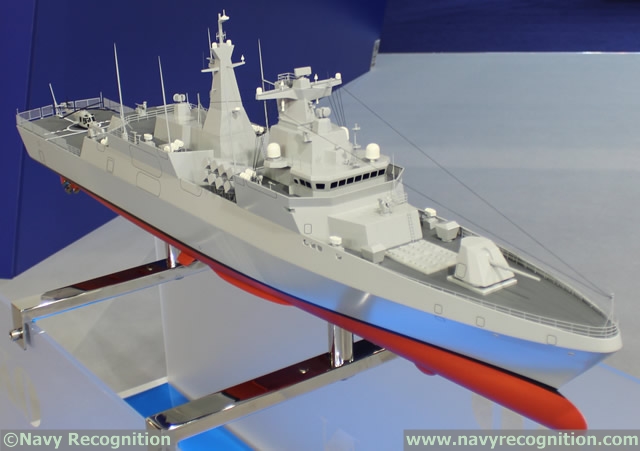 Scale model of the MEKO A-200 AN frigate on display on the CMN/Privinvest booth during Euronaval 2014.
According to TKMS, the MEKO A-200 is capable of full 4-dimensional warfare (AAW, ASW and ASuW, BCW) and is also designed for sustained operations across the full spectrum of general missions and tasks: patrol and interdiction, support of special force operations, SAR and humanitarian operations. The MEKO A-200 has greatly reduced radar, IR, acoustic and magnetic signatures:
» The X-Form shell design; extensive bulwark screening of exposed equipment; flush-closing shell doors and RCS-net screening of all shell openings, give the vessel very low radar cross section.
» Without a funnel, and with all combustion engines exhaust horizontally on or below the waterline with active cooling, plus a shell cooling system, this ship has exceptionally low IR signatures.
» The small, light propellers and the aft-sighting of propulsion machinery allowed by CODAG-WARP combined with a forefoot skeg make for exceptionally quiet signatures.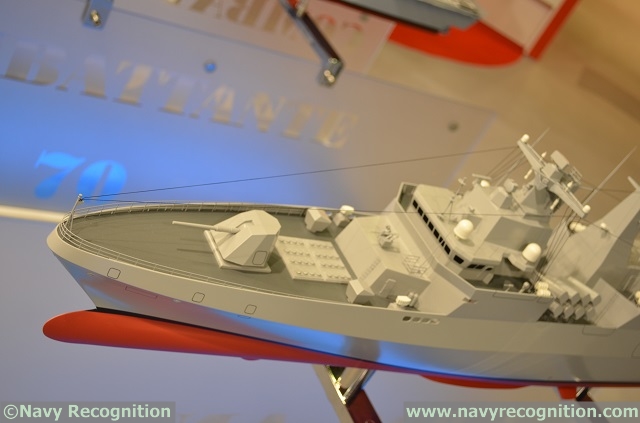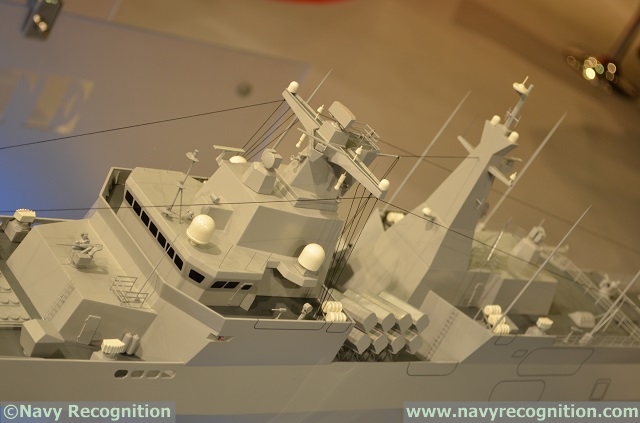 The MEKO A-200 AN will be fitted with 16x anti-ship missiles which is not common for a frigate.
Based on a scale model of the MEKO A-200 AN frigate on display on the CMN/Privinvest booth during Euronaval 2014, the new class of frigate is set be heavily armed:
» 1x Oto Melara 127/64 LW 127mm main gun (possibly with VULCANO ammunition)
» 2x MSI 30mm guns (possibly SEAHAWK A2 model)
» 16x SAAB RBS 15 Mk3 anti-ship missiles
» 32x VLS for Denel Umkhonto-IR surface to air missiles
» 2x MU90 torpedo launchers
» 4x Rheinmetall MASS decoy launchers
» Possibly 2x Sagem NGDS decoy launchers (on each side of the VLS cells, this seems unlikely however with the MASS system already in place)

Based on the model, sensor suite includes:
» SAAB Sea Giraffe AMB 3-D surveillance radar
» Thales UMS4132 Kingklip hull mounted sonar
» SAAB CEROS 200 optronic/fire control radar

It is unclear at this time who will provide the combat management system but it will likely be SAAB's 9LV or Thales' TACTICOS.

Similar to the Valour class, the MEKO A-200 AN seems to be fitted with the unusual CODAG-WARP system (COmbined Diesel And Gas turbine-WAter jet and Refined Propellers) which consists in a water-jet drive, in addition to two propellers.

According to several sources, the first MEKO A-200 AN should be delivered to the Algerian Navy at the end of 2015/early 2016.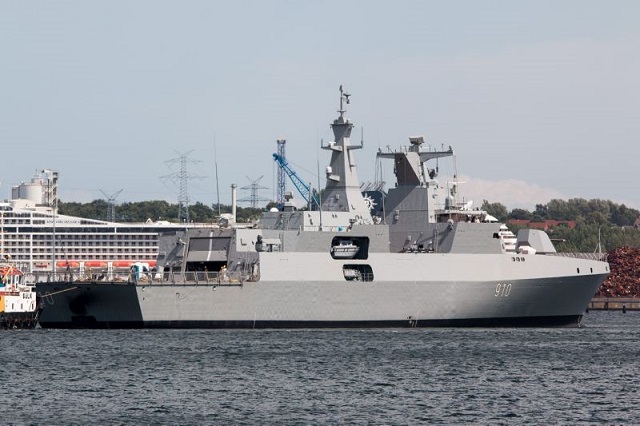 Picture showing the first MEKO A-200 AN frigate for Algeria with most of its systems fitted (except for the anti-ship missiles) and ready to start sea trials. Picture taken on 18/07/2015. Via BMPD/Forcesdz