a
Naval Forces News - China
Video: Chinese Navy in Large Amphibious Exercise With Zubr class LCAC for the First Time
The People's Liberation Army Navy (PLAN or Chinese Navy) South Sea Fleet started 10 days of military training in the waters near eastern Hainan Island in the South China Sea. The exercise involves several amphibious assets of the PLAN such as the Type 071 LPD and their Type 726 LCAC, but also
Project 12322 Zubr large LCAC
. It is the first time the Zubr is shown in operation with the PLAN. Chinese state television CCTV released a video for the occasion.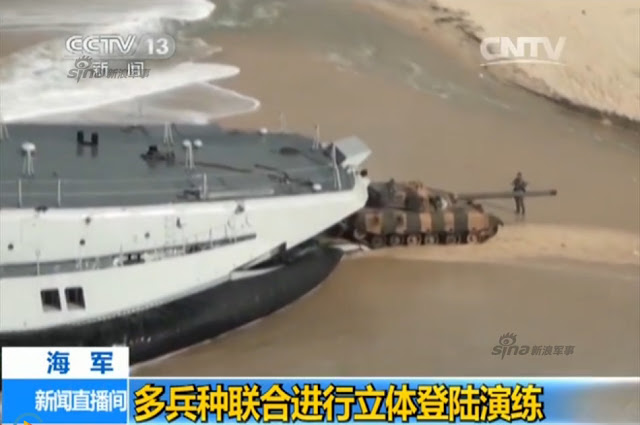 PLA Type 99 MBT rolling off the PLAN Zubr large LCAC
According to the Chinese MoD, the exercise is used to test the PLAN's ability to land a large amphibious assault force and to conduct a joint operation. The Zubr was unloading Chinese Army (PLA)
Type 99 main battle tanks
.
It is not clear yet if the recently unveiled
"Chinese MLP" (868 Donghaidao)
was deployed in this particular exercise to support the Zubr.
Currently the world's largest hovercraft, development of Zubr landing ships started in the USSR in 1978, and the first serial ship joined Soviet Navy in 1988. Its carrying capacity is 3 main battle tanks with overall mass of 150 tons or 10 armored personnel carriers weighing up to 131 tons plus 140 marines, or 8 infantry fighting vehicles with mass up to 115 tons. If not carrying armor, Zubr is capable to accommodate 366 men.
Video of the amphibious exercise with Zubr class LCAC release by CCTV. The Zubr is visible starting at 1:37 in the video.
Besides the Zubr LCAC in action for the first time, another interesting part in the video shows one of the Type 071 LPD (serving as command ship) detecting an incoming missile fitted with millimeter wave seeker. The combat management system of the Type 071 automatically deployed counter measures and shared relevant information to the escorting vessels via datalink.