a
Naval Forces News - United States
US Navy's new Virginia-class USS John Warner to be commissioned on Saturday

The Virginia-class nuclear powered attack submarine John Warner (SSN 785) will be commissioned at US Navy's Naval Station Norfolk on August 1st, local medias announced today July 29th. The 12th Virginia-class attack submarine in the fleet is named after John Warner, a five-term Republican senator from Virginia who also served as the 61st Secretary of the Navy from 1972 to 1974. His wife Jeanne is the ship's sponsor.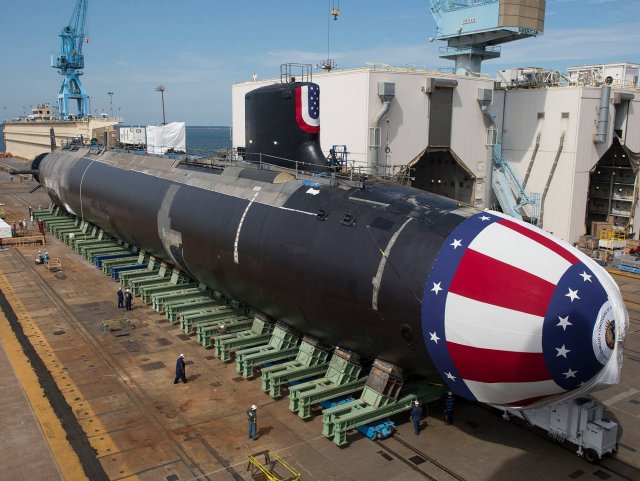 Virginia-class USS John Warner (SSN 785) nuclear attack submarine
(US Navy)
Construction began in 2010 at Newport News Shipbuilding. The USS John Warner was christened on September 6, 2014 and launched four days later. The yard delivered the sub on June 25, two-and-a-half months ahead of schedule.
This is the first Virginia-class submarine to be named for a person rather than a state and Norfolk will be its home port.
This ship is the second of the Block III subs, which will have a revised bow and some technology from Ohio-class cruise missile submarines. The Virginia-class is 7,800-tons and 377 feet in length, has a beam of 34 feet, and can operate at more than 25 knots submerged. It is designed with a reactor plant that will not require refueling during the planned life of the ship – reducing lifecycle costs while increasing underway time.
USS John Warner will have the capability to attack targets ashore with highly-accurate Tomahawk cruise missiles and conduct covert long-term surveillance of land areas, littoral waters or other sea-based forces. Other missions include anti-submarine and anti-ship warfare; mine delivery and minefield mapping. It is also designed for special operations forces, thanks to an Advanced SEAL Delivery System (ASDS).