a
Naval Forces News - USA
Lockheed Martin's LRASM Anti-Ship Missile Just Got its U.S. Navy Designation: AGM-158C
Contacted by Navy Recognition, a Lockheed Martin spokesperson said "we learned over the weekend that LRASM's official designation will be AGM-158C". AGM-158C is the designation for the air-launched LRASM missile only. There is no surface-launch LRASM program of record yet. The Department of the Navy, Naval Air Warfare Center, gave the official designation.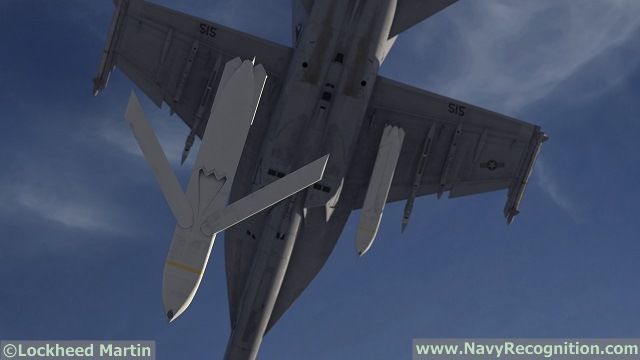 CGI: An AGM-158C LRASM is launched from an F/A-18E Super Hornet

We reported
last week
that the U.S. Navy began initial integration testing of its Long-Range Anti-Ship Missile (LRASM) onto the F/A-18E/F Super Hornet at Patuxent River's Air Test and Evaluation Squadron (VX) 23 facility.
Based on the airframe of the proven Lockheed Martin JASSM (Joint Air-to-Surface Standoff Missile), the AGM-158C LRASM shares the designation of this land attack cruise missile too: AGM-158A being the designation of JASSM and AGM-158B being the designation of the extanded range version, JASSM-ER.
Lockheed Martin is also working on a surface launched variant of LRASM for the upcoming OASuW Increment II competition. In an exclusive interview conducted during Sea-Air-Space 2015, Hady Mourad, Lockheed Martin's Tactical Missiles Advanced Programs Director, told
Navy Recognition
that "
As part of Lockheed Martin's investment into its Offensive Anti-Surface Warfare (OASuW) weapon offering, surface-launched testing will continue in 2015-2016
'.
(Read the full interview with some exclusive images at this link)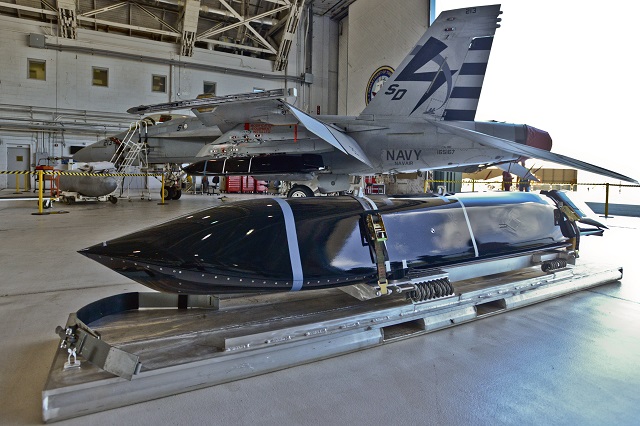 An AGM-158C Long Range Anti-Ship Missile (LRASM) integrated on F/A-18E/F Super Hornet Aug. 12 at NAS Patuxent River, Md. The program's flight test team is conducting initial testing to ensure proper loading, unloading and handling of the LRASM on the F/A-18 E/F. (U.S. Navy photo)
When operational, LRASM will provide flexible, long-range, advanced, anti-surface capability against high threat maritime targets. This missile development program is a joint effort of the Defense Advanced Research Projects Agency, Naval Air Systems Command, the United States Air Force. the Office of Naval Research (ONR) with Lockheed Martin as prime contractor. The missile is fitted with BAE Systems' advanced long range sensor which is designed to enable targeted attacks within a group of enemy ships protected by sophisticated air defense systems.
The LRASM is a long-range subsonic cruise missile designed for better range and survivability than current anti-ship weaponry. It is carried with the wings and tail stowed and then deployed once released from the aircraft.
LRASM is set to be fielded on the U.S. Air Force B-1B Bomber in 2018 and the U.S. Navy F/A-18 E/F in 2019.
To learn more:
Link to LRASM Long Range Anti-Ship Missile technical datasheet