a
Naval Industry News - Netherlands
Royal Moroccan Navy Orders Stan Pontoon 3011 Water Barge from Damen for Rapid Response
The Royal Moroccan Navy, in response to the severe drought that is currently affecting the country, recently awarded Damen Shipyards Group a contract to supply a Stan Pontoon 3011 Water Barge. Due to the urgent need for water in the region, Damen Shipyards Gorinchem, the Netherlands, is putting all its efforts into a fast delivery.

Combining a Stan Pontoon 3011 with water making technology is a first for Damen. Bringing both technologies together in one unit is a unique and innovative solution to the current water shortage in Morocco.No stranger to fast deliveries, Damen is aiming to transport the completed pontoon to Morocco before the end of September 2015.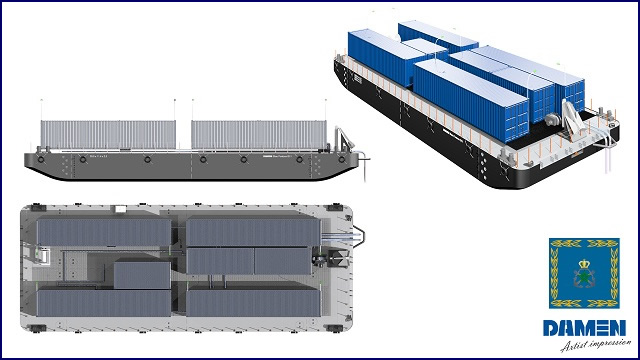 The innovative Stan Pontoon 3011 Water Barge will bring welcome relief to drought stricken areas. Image: Damen
Reverse osmosis for drinking water
Damen will install two high capacity water makers and two air-cooled generator sets on board the pontoon. The water makers use reverse osmosis technology to produce clean drinking water. The method is particularly attractive as it can produce potable water from virtually any water source. It is also a relatively energy efficient process.
After delivery, the Royal Moroccan Navy will manage the deployment and operation of the vessel. With its advanced logistics capacities,the Navy is well placed to provide such vital humanitarian support. They will transport the vessel to the worst affected areas to deliver a water making capacity of 1,500m3 per hour. The water can then either be stored on board the pontoon in bunkers or pumped ashore via a pipeline.

Standard, modular, flexible
The Damen Stan Pontoon 3011 is an ideal choice for such an assignment: Its standardised components and modular construction mean that Damen can deliver the finished pontoon within a very short timeframe. Furthermore, Damen Stan Pontoons serve as highly flexible platforms that can be fully customised to meet customer-specific requirements.
This water barge order from Damen is in addition to the Morocco's order of a 50 meters LCT (Landing Craft Tank) from
Piriou shipyard in July
. The LCT is designed to produce and store fresh water.