a
Naval Industry News - France, Australia
DCNS exhibits at PACIFIC 2012 International Maritime Exposition, Sydney, Australia
French Shipbuilder DCNS, a major player in the European and world markets for value-added naval defence systems, will be present at PACIFIC 2012 International Maritime Exposition. As a naval prime contractor, shipbuilder and systems integrator, DCNS combines resources and expertise spanning the naval defence value chain and entire system lifecycles. DCNS delivers innovative solutions from integrated warships to strategic systems, equipment, services and new energy solutions.

Submarines
DCNS is drawing on 100 years' experience as a designer and builder of diesel-powered submarines, over 50 years' experience in nuclear powered subs, combining the latest advances in acoustic discretion and propulsion.

The Scorpene medium-size submarines, already chosen by the Chilean, Royal Malaysian, Indian and Brazilian Navies, represent the state-of-the-art in submarine design and construction and benefits from the latest technologies developed for nuclear-powered classes operated by the French Navy, particularly as regards acoustic discretion and combat system performance. At PACIFIC, the Scorpene is presented with the MESMA AIP (Autonomous Submarine Energy Module). This is an electrical energy production module designed specifically for conventional submarines. As well as supplying electricity to the vessel and to the propulsion system, it can also be used to recharge the batteries without the need to surface. Together with a MESMA section, a Scorpene will be able to carry out extended missions with an over 3 weeks submerged endurance. The 10 metres MESMA module can be considered as a new-build option or installed during a refit.

Barracuda SSN class model shown by DCNS during Euronaval 2010
(picture: Navy Recognition)
The Barracuda, a state of the art submarine for the French Navy dedicated to deal with an ever-growing array of challenges. DCNS is drawing on 50 years' experience as a designer and builder of nuclear and diesel-powered submarines to develop this new-generation, combining the latest advances in acoustic discretion and propulsion. The Barracuda is designed to undertake blue-water missions anywhere in the world; and to do so either alone or as part of a naval force. In a word, it will be the centrepiece of the military means: an attack submarine capable of massive deep strike operations, which can also control vast maritime domains or deploy as part of a coalition force. Highly versatile, Barracuda will be assigned strategic defence missions, including the protection of LHDs and aircrafts carriers. The first-of-class SSN Le Suffren is scheduled start sea trials early 2016 and to enter service in 2017. Between 2017 and 2027 six Barracudas will replace the six Rubis/Améthyste-class boats currently in service.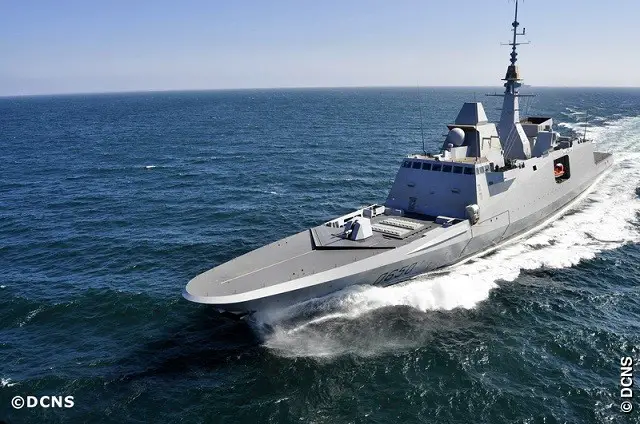 FREMM multimission frigate
( Picture: DCNS)
Surface combatants

The FREMM multimission frigates programme combines the latest technologies developed by the DCNS group. These technological and engineering advances make the FREMM frigates world leaders in their class. France's total order is 11 vessels and the delivery is scheduled from 2012 to 2022. In addition, one FREMM frigate is currently under construction for Morocco.
Gowind Combat model as displayed during NAVDEX 2011
( Pictures: Navy Recognition)
The innovative Gowind® vessels, a new family of ocean-capable vessels designed by DCNS for all littoral and sea operations, are exceptional tools able to fulfil missions ranging from anti-piracy up to sea control and denial. The Gowind® Combat is a multi-mission corvette (100 metres, 2,000 tonnes), has a comprehensive Mission Management System for full-scale multi-threat missions, including a complete ASW suite with towed array sonar and improved stealth and survivability.