a
Naval Industry News - Canada
Irving Shipbuilding Started Construction of First Arctic Offshore Patrol Ship (AOPS) for Canada

Hundreds of employees gathered in the new Assembly Hall at the Halifax Shipyard to celebrate the start of production of the first Arctic Offshore Patrol ship (AOPS) for Canada. Delivery of the first HMCS Harry DeWolf-class ship is expected in 2018.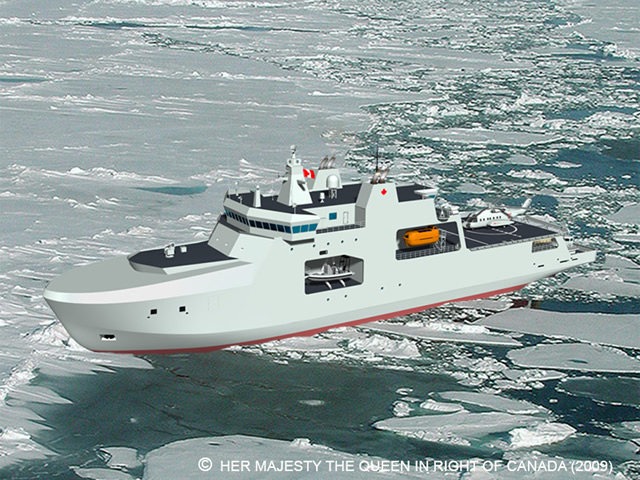 Artist Impressions of the future Arctic Offshore Patrol Ship in the ice

"Today is a milestone we have all been anticipating. It is a great day to be a shipbuilder in Nova Scotia as we mark the beginning of this generational opportunity," said Kevin McCoy, President of Irving Shipbuilding. "We're doing this with the best team and the largest and most modern shipbuilding facility in North America. Our focus is on delivering the best value to Canada with a growing supply chain from coast to coast to coast."

Production has begun on two units for the centre section of the first Arctic Offshore Patrol ship. Welders, pipefitters, marine fabricators and iron workers are among the trades involved in the process, using the new state-of-the-art panel line.

The ship is the first of up to 21 vessels that will renew Canada's combatant fleet over the next 30 years under the National Shipbuilding Procurement Strategy. Irving Shipbuilding has built more than 80% of Canada's current combatant ships.

All of the employees on the recall list have been contacted. Current direct employment at Marine Fabricators in Dartmouth (where steel is cut) and the Halifax Shipyard is about 900 direct employees (staff and hourly). Over the next two years, the workforce at both sites is expected to rise to 1600 direct employees with over 1000 directly employed on AOPS production. In addition, total employment at Irving Shipbuilding (all operations) is forecasted to rise to over 2500 direct employees at peak production of the larger Canadian Surface Combatant vessels that will replace Canada's current fleet of Halifax Class frigates.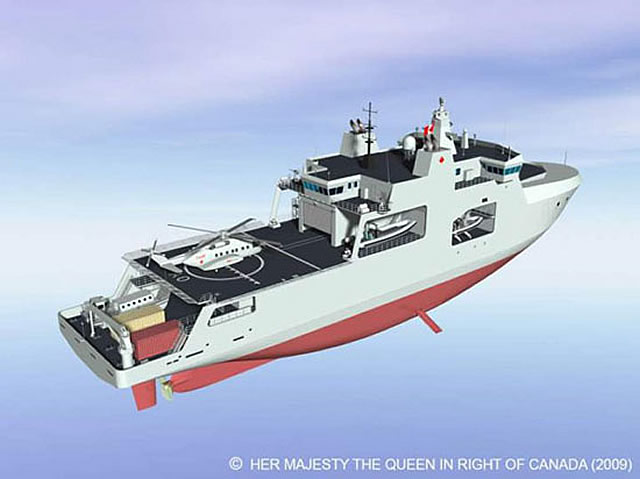 Stern view of the future Arctic Offshore Patrol Ship

AOPS is a Government of Canada procurement project for the RCN. The project is expected to equip the Canadian Forces with six naval ice-capable offshore patrol ships able to assert and enforce sovereignty in Canada's waters where and when necessary, including the Arctic. The ships will conduct missions for northern surveillance, search and rescue, and interoperation with the Canadian Forces and other government organizations. The first Arctic/Offshore Patrol Ship is scheduled to be delivered in 2018.