a
DSEI 2015 Naval Daily News - White Glacier
White Glacier is Showcasing the Arctic 25 Hypothermia Protective Immersion Suit at DSEI 2015
White Glacier is showcasing the revolutionary Arctic 25 hypothermia protective immersion suit at DSEI 2015. The Arctic 25 hypothermia protective suit is breaking tradition and setting new standards when it comes to maritime safety and hypothermia protection. Through a patented combination of non-neoprene cutting edge materials, the Arctic 25 protects survivors from freezing temperatures, dangerously cold water, frigid arctic wind, and the effects of hypothermia for over 25 hours without the need for constant manual adjustment or inflation.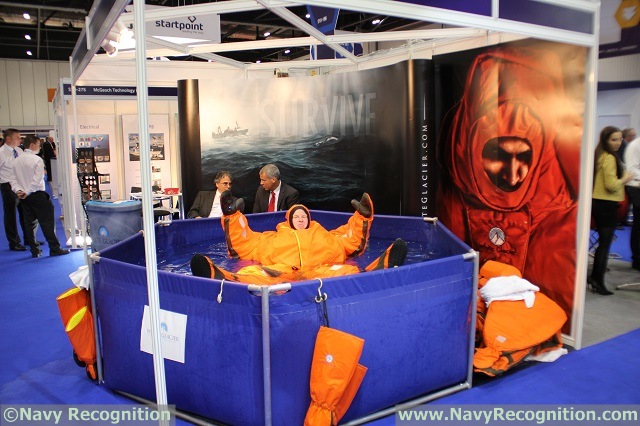 The Arctic 25 suit is demonstrated daily in the White Glacier tank exhibition at DSEI 2015
With White Glacier's revolutionary cold water immersion suit, the dire threat of hypothermia is neutralized and every other opportunity for survival is championed to sway even the gravest emergencies in favor of the victim. According to White Glacier, the Arctic 25 doesn't just meet regulations and requirements, it far surpass them unlike any other suit on the market.