a
DSEI 2015 Naval Daily News - Type 26 Frigate
BAE Systems to Provide Mk 45 Mod 4 Naval Gun System for Royal Navy Type 26 Frigates
BAE Systems confirmed last week its selection as preferred bidder by the U.K. Ministry of Defence (MOD) to provide the gun system, known as the Maritime Indirect Fires System (MIFS), for the Type 26 Global Combat Ship. This follows the MOD's £859 million Demonstration Phase contract for the Type 26 program that was awarded to BAE Systems earlier this year.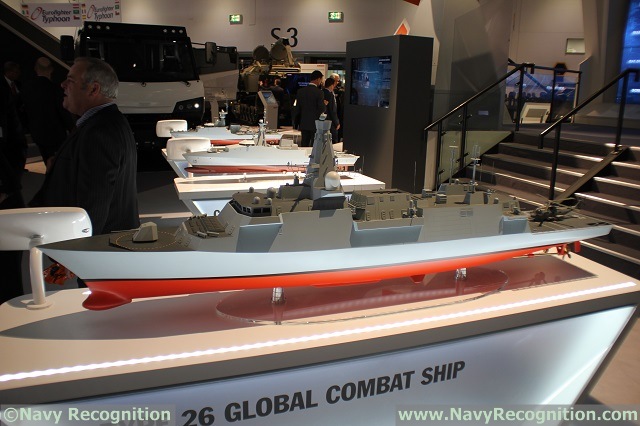 Type 26 Frigate scale model on BAE Systems stand at DSEI 2015
Subject to contract award, BAE Systems will provide the MIFS Integrated Gunnery System (IGS), which includes the 5-inch, 62-caliber Mk 45 Mod 4 Naval Gun System, along with an automated Ammunition Handling System, Gun Fire Control System, and qualified ammunition.

"The Mk 45 is at the center of our MIFS solution and will provide the Royal Navy with a low-risk, low-cost, and highly effective automatic weapon system" said Joe Senftle, vice president and general manager of Weapon Systems at BAE Systems. "It combines the benefits of a mature, reliable, and proven system with the capacity to deliver the full range of ammunition available today and in development."
Interview on Mk 45 Mod 4 naval gun system at DSEI 2015
BAE Systems has begun work in support of the overall Type 26 development design effort and, earlier this year, participated in Mk 45 technical briefings between the U.S. Navy and Royal Navy on board the USS Winston Churchill in Portsmouth, U.K. The event gave members of the Royal Navy the opportunity to further experience the gun system's features and capabilities.

The world-leading Mk 45 is in service with the U.S. Navy and 10 other allied nations. More than 240 Mk 45 guns have been delivered into service globally, benefiting engineering and manufacturing capabilities around the world.

With business and service teams in the United States and the United Kingdom, BAE Systems brings unrivalled skills and experience to the Type 26 Global Combat Ship.

The Type 26 Global Combat Ship will replace the capability of the Royal Navy's Type 23 frigates with a multi-mission warship capable of undertaking a wide range of roles from high intensity warfare to humanitarian assistance, either operating independently or as part of a task group. Designed with an acoustically quiet hull, the ship is being designed to be supportable and upgradeable as new technology develops to ensure that it remains relevant to the future demands of the maritime environment.