a
Naval Industry News - France / Russia
DCNS launched in Saint-Nazaire the construction of two BPC-type LHDs for Russia
DCNS launched yesterday the construction at the STX shipyard at Saint-Nazaire of the first of two BPC-type vessels ordered by the Russian Federation. Russian and French guests of honour joined DCNS and STX employees for the official 'first cut' ceremony.

Mr Andrei Petrovitch Vernigora, Acting Director of Department of the Ministry of Defence of the Russian Federation, responsible for monitoring the execution of the military orders of the State, Captain Valeri Pletnev, Naval Attaché with the Russian Federation Embassy in France, and Ivan Goncharenko, First Deputy Managing Director of Russian defence export agency Rosoboronexport were among the guests watching as work began this morning on the first BPC-type vessel for Russia.

The first cut was executed according to the design study launched on 1 November 2011 to tailor the BPC concept to Russian requirements. DCNS and STX also used this opportunity to formally open the office space at the STX shipyard assigned to the Russian team that will work on site throughout the construction programme.

"DCNS and its partners are fully mobilised to work on this programme," said Pierre Legros, DCNS SVP Surface Ships & Naval Systems. "It represents the shared desire expressed by our two countries to set up a major industrial partnership."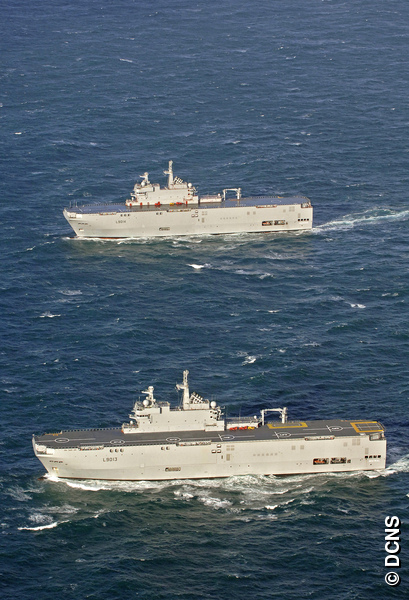 DCNS Mistral class used by the French Navy and soon by the Russian Navy
(picture: DCNS)

The contract calls for the delivery to Russia of two BPC-type vessels (known on the international market as landing helicopter docks or LHDs) along with associated services including initial logistics, training, and technology transfers. DCNS will act as prime contractor for BPC construction and assume responsibility for the integration of the ship's operations management and communications systems. STX France will act as the DCNS Group's subcontractor for shipbuilding.

The first ship is scheduled for delivery in 2014, just three years after the contract go-ahead. The second is scheduled for delivery in 2015.

The BPC concept was co-designed by DCNS and STX France to deliver inherently multirole vessels meeting the needs of many navies and ideal for a wide range of civilian and military missions.

With a length of 199 metres, a displacement of 22,000 tonnes and a speed in excess of 18 knots, BPC-type LHDs offer a global projection capability for troops and materiel, including heavy helicopters and landing craft, as well as ample capacity as a hospital or evacuation vessel for large-scale humanitarian missions. The design also features electric propulsion using azimuth pods and high-level automation compatible with a complement of just 170 while a high-performance communications suite makes the type ideal for the naval force command vessel role.

The first two ships of this type, BPC Mistral and BPC Tonnerre, were delivered to the French Navy in 2006 and 2007 respectively. Following an order placed by the French defence procurement agency (DGA) in 2009, DCNS and STX France delivered the third-of-class BPC Dixmude to the French Navy on 3 January 2012, three months ahead of schedule.