a
DSEI 2015 Naval Daily News - SubSea Craft DDU
SubSea Craft Unveiled its Diver Delivery Unit (DDU) for Special Forces at DSEI 2015
During DSEI 2015 which took place in London from 15-18 September, UK based engineering company SubSea Craft unveiled a revolutionary new submersible called the Diver Delivery Unit (DDU). The DDU is modular and offers mission-specific capability on and under the surface. It is scalable and reconfigurable for a variety of roles. The DDU features a unique catamaran design and can deploy up to 8 special forces operators including the crew of two.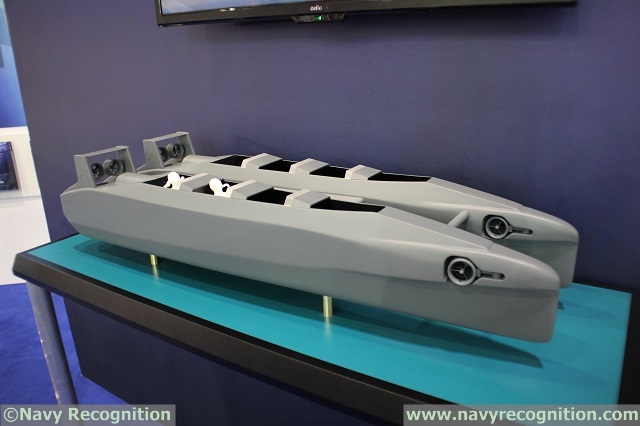 DDU Scale model on SubSea Craft stand at DSEI 2015
DDU mission may include Special Forces maritime operations, Customs and drug enforcement, Anti-piracy missions, Maritime oil and gas exploration, Environmental and exploration, Homeland security...

The DDU has the ability to cross the surface at speed, and then transition to a submersible craft offering speed, depth, payload capacity, distance and stealth. According to SubSea Craft, the DDU is the 'next evolutionary step' in surface/submersible watercraft, combining exceptional surface perfomance with a transitional submersion mechanism and outstanding sub-surface manoeuverability, speed and range. The DDU incorporates unique patented technology that enables multiple dive capability with full hydrodynamic control at depths of 35m.

Surface propulsion is provided by common fuel diesel engines and jet drive, with electrical sub-surface propulsion based on Formula-E racing battery technology for enhanced and sustained power. A patented hull configuration provides inherent stability on the surface and perhaps more importantly, sub-surface.

DDU basic specifications:
Insertion methods: C-130, A400M and CH47 under-slung
Length: 10.75 meters
Beam: 3.2 meters
Height: 2.15 meters
Weight: 8000 Kg (Dry) / 10800 Kg (Operational)
Crew: Pilot/Navigator + 6 (8 Total)
Range (surfaced): 250+ nautical miles
Speed (surfaced): 40 kts
Range (sub-surface): 25+ nautical miles
Speed (sub-surfaced): 4 kts (cruise) / 8kts (sprint)
Operating depths: 3 to 15 meters
Max depth: 50 meters