a
DSEI 2015 Naval Daily News - Belgian Navy Castor Patrol Vessel
On Board Belgian Navy P901 Castor Patrol Vessel / Ready Duty Ship
Navy Recognition had the chance to tour the Belgian Navy Patrol Vessel Castor (P901) during DSEI 2015, the International Defence & Security event in London, United Kingdom.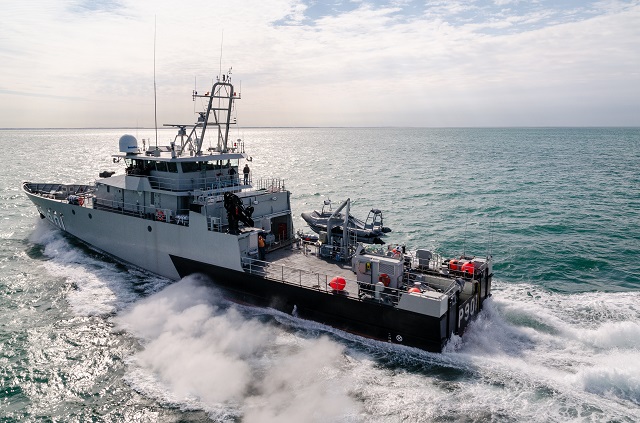 Castor patrol vessel / ready duty ship of the Belgian Navy
The Belgian Navy selected French shipyad SOCARENAM for the Ready Duty Ship (RDS) program. The first RDS, the P901 Castor was delivered in July 2014. The second, the Pollux joined its sister-ship in the first half of 2015. The missions of the RDS include surveillance of the EEZ, illegal fishing control, search and rescue, and fight against trafficking and pollution. For its missions, the ship has a crew of 15 and can take about 18 passengers aboard. Two RHIB, one 9 m in length and one 7.5 m, are placed at the back of the RDS. The ship also features a panoramic (360°) bridge and an FN Herstal SeaDeFNder 12.7 mm remotely operated machine gun.

Video: On board the Castor patrol vessel of the Belgian Navy
The two Castor class patrol vessels are 53.5 m long and have a displacement of 569 tons. Its tank carries 70m³ of fuel for its diesel engines. Its maximum speed is 22 knots and it has a maximum range of more than 4.500 miles at 12 knots. The vessels have a crew of 15 and can take about 18 passengers aboard.