a
Naval Forces News - UK
UK Government Commited to the Successor SSBN Ballistic Missile Submarine Program
By Stelios Kanavakis

The UK Government remains committed to the Successor submarine programme, according to the country's Defence Secretary Michael Fallon. It is a project of absolute necessity in order for the UK to remain a capable deterrent force in an era of critical global security issues, the minister reiterated during his speech at a reception at the House of Commons on 21 October.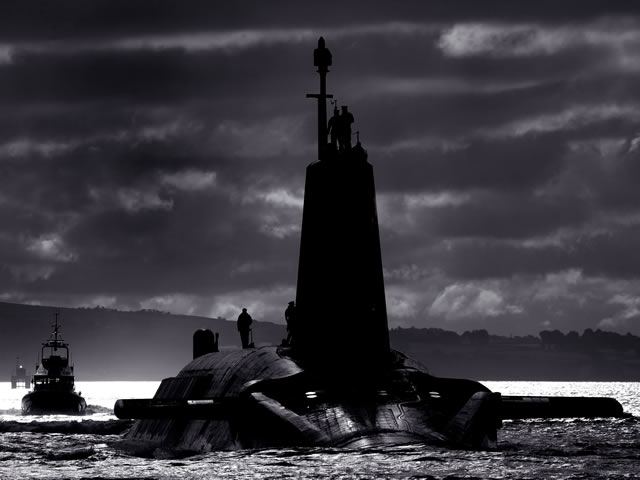 HMS Vanguard, head of Vanguard class SSBN, the current class of Royal Navy SSBN
set to be replaced around 2024 by a new class
(Picture: Royal Navy/Crown Copyright)
He appealed to all moderate MPs to have national security as the top priority and support the construction of the four new Trident submarines, in an effort to continue the 60-year consensus on nuclear deterrence. The threats are constantly present, albeit evolving. Despite 9/11 and the change in modern warfare paradigm that it brought, state threats such as those coming from Russia and South Korea were the examples he presented in his speech.

He stressed that nuclear proliferation is still an important factor to consider in defence planning. Although the UK has taken steps towards reducing by half its Cold War nuclear stockpile and the nuclear warheads on each submarine from 48 to 40, nuclear deterrence will continue to play an important role.

Furthermore, the construction of the submarines is an important investment. Michael Fallon stressed this project's sheer size and its impact on the national and local economies, while at the same moment it will expand the country's manufacturing skills and capacity. The investment is three times the budget of the London Olympics and nearly twice the budget of Crossrail.

Due to the critical nature of the project he has warned the industries involved that they should not repeat the delays and cost overruns of the Astute-class submarines. It was a clear effort to gain the parliamentary backing while playing down the serious concerns regarding the huge costs associated with the project, which has become a main issue of political confrontation.

The final cost of the new submarines has not been made clear yet but it is expected that the project could cost around GBP20 billion. Nevertheless, this could rise further.

The UK Government decided to cut around GBP37 billion from state expenditure by 2019-20 while at the same moment it asks the MPs to back up the submarines procurement. This has been used as an argument from those who are not in favour of the programme fiercely debating whether the country should opt to acquire the new submarines.