a
Naval Forces News - Belgium, France
Belgian Navy Frigate Leopold I to Escort French Navy Carrier Strike Group in Next Deployement
Belgian Navy Frigate Leopold I (Karel Doorman-class) will be integrated to the French Navy Carrier Strike Group (CSG) centered around nuclear-powered aircraft carrier Charles de Gaulle. France announced the deployment of its only aircraft carrier against Islamic State on November 5.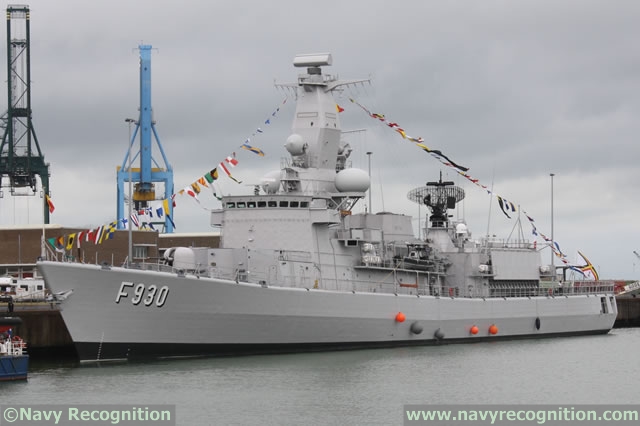 F930 Leopold I - Karel Doorman-class frigate ("M-Frigate") of the Naval Component of the Belgian Armed Forces

Belgian Prime Minister Charles Michel announced on November 11: Belgian Government "decided on October 30 to answer the request that was sent to us by France, and instructed the Leopold 1st to provide escort mission of the aircraft carrier Charles de Gaulle to the Persian Gulf. This mission will begin on November 18, and will end on January 2. The frigate is expected back in the country on January 22."

The French Navy CSG is set to leave Toulon naval base on November 18.

The Belgian Navy Frigate Leopold I (F930) is a Karel Doorman class frigate. Prior to March 2007, the ship was known as the HNLMS Karel Doorman (F827). It is one of the two frigates of this class that was purchased by Belgium from the Netherlands in December 2005.

Frigates of this class displace 2,800 tonnes and measure 122 meters long. They can reach a maximum speed of 30 knots. They are equipped with 8x Harpoon anti-ship missiles, 16x RIM-7 Sea Sparrow surface-to-air missiles launched from VLS tubes, torpedoes for anti-submarine warfare. Their main gun is a 76mm by Oto Melara. Vessel of the class also have a Thales Goalkeeper Close-in Weapon System .