a
Naval Forces News - France
French Carrier Strike Group to Deploy to Eastern Mediterranean with Largest Airwing Ever
While the French Navy Carrier Strike Group (CSG) was originally planned to deploy to the Persian Gulf, plan has now changed. Following the terrorist attacks in Paris, French President Hollande announced today that the Charles de Gaulle nuclear-powered aircraft carrier would leave its base on Thursday to deploy to the Eastern Mediteranean. Navy Recognition understands that the air wing will be larger than usual. In the meantime French and American defence officials agreed to increase their cooperation.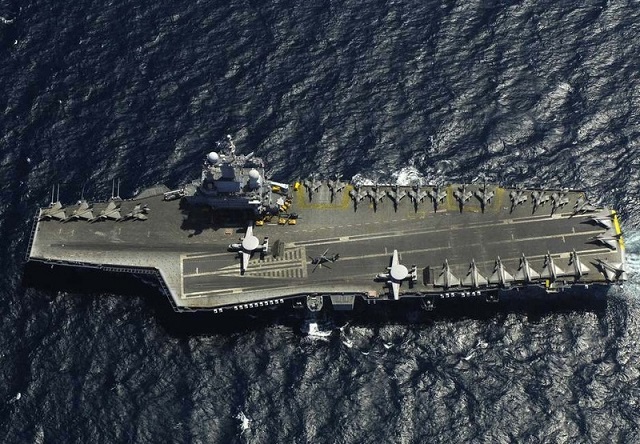 The French Navy nuclear-powered aircraft carrier (CVN) Charles de Gaulle (R91) is expected to deploy with up to 34 aircraft on board. This would be a first for an operational mission.
Picture: French Navy
By deploying the CSG in the Eastern Mediteranean, presumably off the Syrian coastline, the French Navy aircraft will be much closer to their objectives in Syria.
Various sources, including the very reliable
Fauteuil de Colbert blog
, indicate that the Charles de Gaulle will deploy with a unusually large air wing consisting of 26 fighters (18 Rafale M and 8 Super-Etendard Modernisé). This is above the official limit of 24 fighters and this would be a first in the French carrier history for an operational mission..
In total, Charles de Gaulle should have 31 to 34 aircraft onboard:
» 18x Rafale ;
» 8x Super-Etendard Modernisé (SEM) ;
» 2x E-2C Hawkeye ;
» 3 to 5 CSAR and SAR helicopters including Air Force Caracal and Navy Alouette III
This should be the last operational deployment of the SEM as the aircraft which is flying for the French Navy for over 40 years now is set to be pulled out of service next year.
Around the
Charles de Gaulle
CVN, the CSG itself should be composed of Horizon class Air Defennse Destroyer
Chevalier Paul
(classified as Frigate in the French Navy),
Leygues class
ASW Frigate
La Motte-Picquet
, Durance class replenishment oiler
Marne
and as usual a Rubis class submarine (SSN).
The French CSG will receive escorts from allied navies as well: Belgian Navy
Leopold I
Frigate, Royal Australian Navy Frigate HMAS
Melbourne
(Perry class) and Royal Navy Type 23 Frigate HMS
St Albans
. It is understood that these vessels won't be integrated in the French CSG simultaneously but will rather take turns.
It would not be surprising to see U.S. Navy vessels operating alongside the French CSG as well, as it has been the case earlier this year in the Gulf.
In the meantime, defense officials said U.S. Secretary of Defense Ashton Carter has been an advocate of easing restrictions on intelligence sharing with France. After Mr. Carter spoke Sunday with French Minister of Defense Jean-Yves Le Drian, their second call since the attacks in Paris on Friday night, Pentagon press secretary Peter Cook said the defense chiefs "agreed on concrete steps the U.S. and French militaries should take to further intensify our close cooperation in prosecuting a sustained campaign" against Islamic State.