a
Naval Forces News - Russia, France
Vladimir Putin Ordered Russian Navy Cruiser Moskva to Work with French Navy Aircraft Carrier
Russian president Vladimir Putin has issued orders for the Flagship of the Russian Navy Black Sea fleet, the
Moskva
cruiser (Project 1164 Atlant / Slava class), to work together with a French naval group led by nuclear-powered aircraft carrier
Charles De Gaulle
which is
departing for Syria this week
. The
Moskva
is currently covering the Russian base in Latakia from the Mediterranean Sea.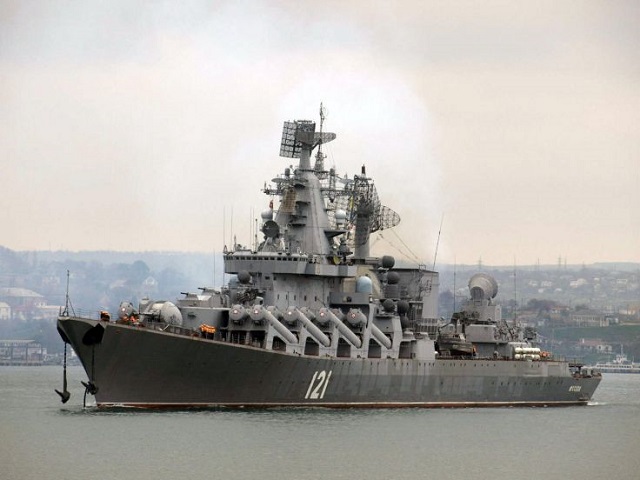 Project 1164 Atlant class "Moskva" cruiser, flagship of the Russian Black Sea Fleet

"The French naval group, led by the air carrier, will soon reach your area of operations. We need to establish direct contact with it, and treat it as an ally,"
the Russian president said. "
We need to develop of a joint action plan for both sea and air operations."
The Kremlin said that the parameters for a joint mission had been agreed upon by Putin and French President Francois Hollande, following a personal phone call.
"
The two leaders focused their attention on bilateral and multilateral cooperation in combating terrorism,"
a Kremlin statement said.
"This includes closer ties and joint operations between the military command and intelligence services of Russia and France in Syria."
Vladimir Putin and Francois Hollande are to meet in Moscow on November 26.
The
Moskva
(originally name "Slava") was laid down in 1976 in Shipyard 445 of the 61 Kommunara Shipbuilding Plant in Nikolayev, was launched in 1979, and commissioned on 30 January 1983. Slava returned to Nikolayev in December 1990 for a refit but was not returned to service until April 2000. Recommissioned as Moskva, she replaced the Kynda class cruiser Admiral Golovko as the flagship of the Black Sea Fleet.
Modernization and repair will extend the life of the ship until the end of the 2020s. Another vessel of the same class, the
Marshal Ustinov
has just been refitted
.