a
Naval Forces News - Russia
Russian Navy to Drop Lada Class Submarine (Project 677) and modernize existing boats
The Russian Navy has decided against construction of Lada class submarines (Project 677) and will instead modernize its existing boats, Navy Commander-in-Chief Adm. Vladimir Vysotsky said in an interview with RIA Novosti.

The design of the diesel-electric Lada class was completed at the end of the 1990s, but none of the planned boats have entered service, although the lead ship in the class, the Saint Petersburg, is undergoing trials with the Baltic Fleet, Vysotsky said.

"The Russian Navy does not need the Lada in its current form," he said.

Vysotsky also said the first the non-nuclear Russian submarine with anaerobic propulsion may begin trials in 2014.

Currently all of Russia's submarines are either nuclear or diesel-electric powered.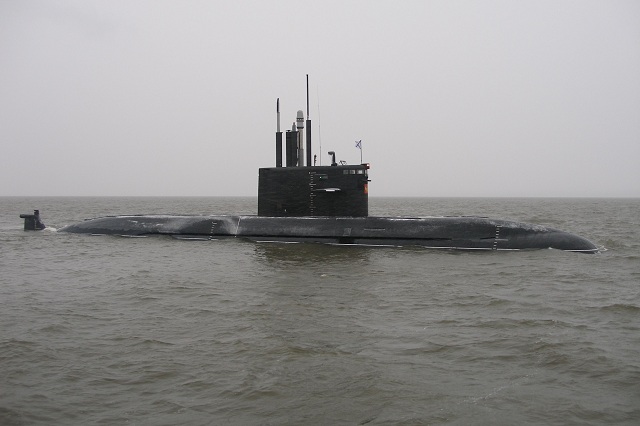 Lada class Conventional Submarine (SSK) Project 677
(picture: Internet)
"It is entirely possible we will receive a test version of an air-independent power plant in the next few years. On boats of the Lada class, two of which are already laid down. Trials may begin in 2014. That is absolutely realistic," he said.

In addition, all of Russia's active strategic submarines will be armed with Liner ballistic missiles, an advanced version of the Sineva missile, Vysotsky said.

"For now only those on combat patrol in the Pacific Ocean are equipped with them. But in future all our active strategic submarines - Delfin and Kalmar (Delta III and Delta IV) - will be armed with these missiles," he said.

Construction of a new aircraft carrier will begin before 2020, Vysotsky said.

"Actual construction of the ship will begin before 2020 and will be completed after 2020. The design of the new carrier complex will be determined in the course of two years, by 2014," he said.

The Admiral Kuznetsov is currently the Russian Navy's only active aircraft carrier.

Vysotsky confirmed that the Bulava ballistic missile and the strategic nuclear submarine Yury Dolgoruky would enter service simultaneously this year.