a
Naval Industry News - Russia
Russia to use Mistral LHD construction experience to develop new amphibious assault ships
Russia will take Mistral-class helicopter carrier construction into account to develop domestic universal amphibious assault ships, Assistant to the Navy Commander-in-Chief for Military and Scientific Work Captain 1st Rank Andrei Surov said on Monday.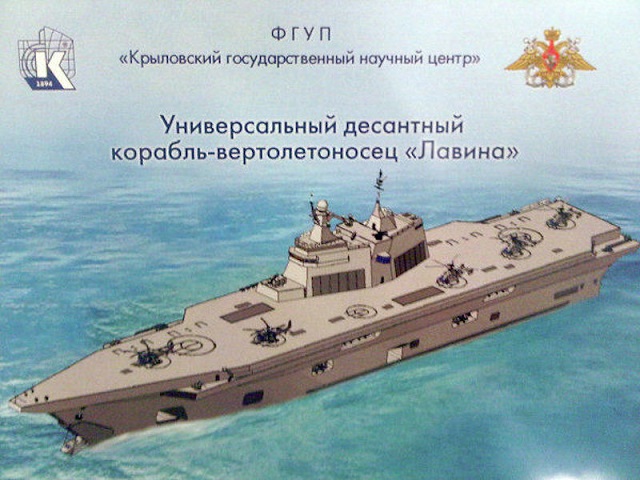 Image showing Krylov Central Scientific Research Institute's Avalanche (Lavina) Project with the official seal of the Russian Navy.
"Our industry was deeply involved in the construction of the two Mistral-class helicopter carriers, which they [France] refused to deliver to us, and gained sufficient experience. We hope that many aspects will be taken into account in developing the new projects, which were on display [at the Army 2015 exhibition]," Surov said in an interview with Echo Moskvy radio station.

According to him, the afterbody of the second Mistral helicopter carrier was built at the St. Petersburg-based Baltic Shipyard.

"Joint work was set up to develop communications, control and automation systems," the officer said.

According to Surov, a universal modular-type combat platform will become "a ship of the future".

"We are developing universal multifunction ships, in the first place. For instance, a frigate can accomplish the whole range of tasks. We are likely to expand the ammunition load, improve its characteristics, develop standardized equipment and, of course, implement robotic systems. We take all these aspects into account," Surov said.

The Nevskoye Design Bureau unveiled a design of the amphibious assault ship Priboy with a displacement of 14,000 tons at the Army 2015 exhibition. The ship can carry eight helicopters on its deck and up to 500 marines or 40-60 armored vehicles.

The ship is a derivation of the Project 11711 Ivan Gren-class large amphibious assault ship under construction at the Kaliningrad-based Yantar Shipyard. The Navy is planning to receive no less than 10 Project 11711 ships in the next several years.

The Krylov State Research Center is designing a future universal amphibious assault ship as well. The information about this project remains unavailable as the relevant authorization documents have not been formalized yet.

Russian design bureaus are currently developing future universal amphibious assault ships on their own initiative.

© Copyright 2015 TASS. All rights reserved. This material may not be published, broadcast, rewritten or redistributed.