a
Naval Forces News - Iran
Iran's IRCG Navy Mi-171 Helicopter Now Fitted with C802/Noor Anti-Ship Missile
Pictures have emerged on Iranian website Military.ir showing an Mi-171 helicopter belonging to the Islamic Revolutionary Guard Corps Navy (IRGC N) fitted with two Noor anti-ship missiles. The Noor is a locally produced missile based on the Chinese C-802 anti-ship missile.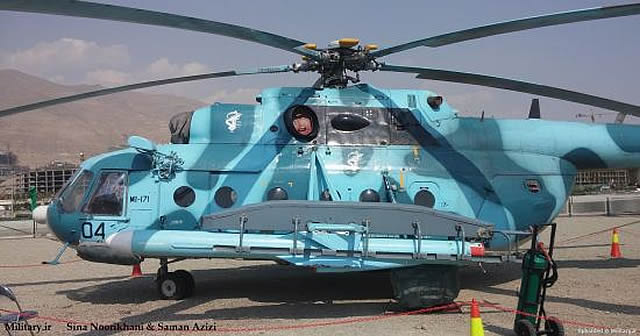 Iran's Islamic Revolutionary Guard Corps Navy Mi-171 helicopter fitted with Noor anti-ship missile
The photo was likely taken during a defense exhibition held in Iran last month. Early reports about the Iranian plans to fit their Noor missiles on the Mi-171 helicopter first appeared in 2007, but the status of these experiments was unclear. Apparently the program was continued and is now probably about to be fielded.
Iran acquired a limited batch of Chinese C-802 missiles in 1995, and later, from the beginning of the 2000s started producing their local version under the designation "Noor". Subsequently, Iran introduced a number of modifications to the missile. Placing a relatively heavy anti-ship missile on a helicopter is an unusual solution (The C-802 weighs 715 kg in its base version with a range of up to 120 km). But it can be done: Several Super Puma customers have already fielded Exocet anti-ship missiles on their helicopters (it is the case of the navies of Chili and the UAE) and Airbus Helicopters conducted some
Exocet tests on its newer Caracal helicopter last year
. Likewise, NHIndustries and MBDA
started integration
of the MARTE ER on the NH90.
The fact that Iran is fitting Noor on helicopters may however be an indication of the deteriorating condition and declining number of the combat aircraft available.