a
Naval Defense Industry News - Israel
Successful Interception Test for IAI's Barak-8 Missile System from Israeli Navy Sa'ar 5 Class Corvette
A successful interception test of the Barak-8 system was conducted from an Israel Navy Sa'ar 5 class corvette, in continuation of the
test held in late 2014
, when the operational capabilities of the Barak-8 were successfully proven.
IAI Video on the latest Barak 8 test
Barak-8, jointly developed by the Israel Ministry of Defense (IMOD) and the DRDO (Defence Research and Development Organization) in India, is an advanced groundbreaking air and missile defense system which provides ultimate protection against a variety of aerial platforms, in both land and naval scenarios.

The system is considered an essential project by the IMOD and is led by Israel Aerospace Industries (IAI), as prime contractor, in collaboration with the IMOD's Directorate of Defense Research and Development (DDR&D), ELTA Systems Ltd., IAI's group and subsidiary, RAFAEL Advanced Defense Systems, and other defense industries.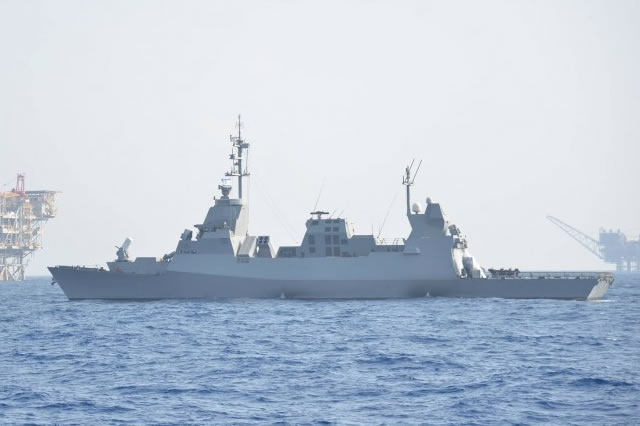 Saar 5 class corvette Eilat fitted with the new IAI Elta EL / M-2248 MF-STAR (forward mast)
The Barak-8 naval version is intended for use by the IDF and the Indian defense forces and supplies both point and area defense against a variety of airborne threats.
The system includes an advanced Phased Array digital radar, command and control, vertical launchers and missiles carrying a highly advanced seeker.

The scenario began with a target launch. After detection by the System's ship-based radar, the weapon system calculated the optimal interception point, launched the Barak-8 missile into its operational trajectory that acquired, and successfully intercepted the target. All weapon system's components successfully met the goals of the test.

Joseph Weiss, IAI's President and CEO: "The successful test of the Barak-8 naval version reflects the system's reliability and quality, together with its advanced technological capabilities. This unique project expresses the constructive cooperation between the Indian DRDO, the Israeli DDR&D and both countries' Defense Forces. Barak-8 is one of IAI's flagships and a major growth engine for the Company."

Boaz Levi, Executive Vice President and General Manager of Systems, Missiles & Space Group said: "Barak-8, with its naval and land versions, is a member of the elite club of the most successful Israeli military developments in the world. The development of the system is reflected in its innovation, creativity and its remarkable personal dedication of all those involved in the matter."
IAI Video on Barak 8
The three Sa'ar 5 corvettes were built by Huntington Ingalls Industries in the USA for the Israeli Navy, based on an Israeli design. They are the largest surface warships in Israel's naval fleet. Although they are "corvettes" due to their small size and crew of only 71, their weaponry and speed are almost comparable to that of a frigate. They are equipped with sonar, torpedoes, missile launchers, electronic warfare capabilities and decoys, a gun mount, and a helipad and helicopter hangar. The first of class, INS Eilat, was launched in February 1993, followed by INS Lahav in August 1993 and INS Hanit in March 1994.
As we reported in
September 2014
the class is being upgraded witht he new MF-Star multifunction AESA radar.