a
Naval Forces News - NATO
Exercise Proud Manta 2012 gets underway
Nisida, Naples 14 February 2012: During the night between the 13 and 14 February, five NATO submarines slipped their moorings and disappeared into the winter waters off Sicily. At the same time 12 surface vessels steamed out to the exercise area to begin a complex game of cat and mouse which will last until 24 February. Proud Manta 12, NATO's largest annual anti-submarine exercise, is underway.

"This year we have a very large contribution to this exercise by Allied nations," stated Vice Admiral Veri, Commander Maritime Command Naples (MC Naples), during a media day held 13 February. "Surface and sub-surface vessels, helicopters and planes are coming together in an extremely complex and progressively difficult scenario." Admiral Veri also pointed out that Proud Manta 12 foresees the switching of roles from hunter to hunted for all those participating with periods of 'free-play' in which ships, planes and submarines will use all their stealth, experience and equipment to hunt and neutralize each other. He also took the opportunity to point out the continued importance of the role of the submarine and the need for NATO to continue to train for full interoperability in all aspects of submarine warfare. He also stressed the established and verified importance of submarines in surveillance and Special Forces operations.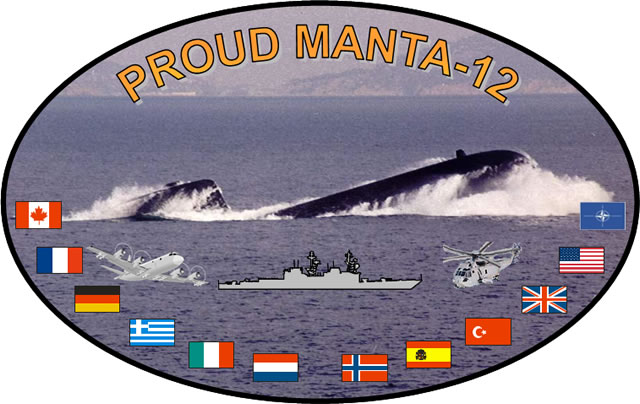 Proud Manta 2012
This year's event sees 15 helicopters and fixed-wing airtcraft joining in the proceedings to include, for the first time, Italian Eurofighters and Tornadoes posing a fast-attack air threat.

Rear Admiral James Foggo III, Commander Submarines, Allied Naval Forces South, responding to a journalist's question on the importance of Proud Manta 12, put great emphasis on the training in interoperability offered by the exercise. He pointed out that many of the personnel and assets exercising were equally likely to find themselves operating side-by-side in NATO-led operations where they could, for example, find themselves combating piracy or terrorism. He also reminded those present of the important maritime operations that NATO had carried out in Mediterranean waters as part of Operation Unified Protector in 2011.

A portion of the Proud Manta 12 surface fleet is made up of the ships of Standing NATO Maritime Group 1 (SNMG1) currently under the control of MC Naples. Asked what role his ships would have in the exercise Commodore Ben Bekkering (COMSNMG1) told journalists that, other than offering strong competition to the submarines, his Group is an Immediate Reaction Force and that he must be able to carry out the tasks that the Exercise participants are being trained to do immediately upon receiving orders from NATO.

This year's Proud Manta also includes a growing role for the NATO Underwater Research Centre (NURC) from La Spezia, Italy. Scientists and technicians aboard the NATO Research Vessel Alliance are this year sailing in the very midst of the exercise carrying out experiments on detection and tracking using Autonomous Underwater Vehicles, testing software, and using NATO-developed 'gliders' to better understand the presence and behaviour of marine fauna.