a
Naval Forces News - Russia
Russian Navy Project 20180TV Academician Kovalyov Armament Support Ship Completes Sea Trials
The advanced Project 20180TV Academician Kovalyov armament support ship built by the Zvyozdochka Shipyard in Severodvinsk has completed its official trials and will be delivered to the Russian Navy on December 18, the shipyard's press office told TASS on Wednesday.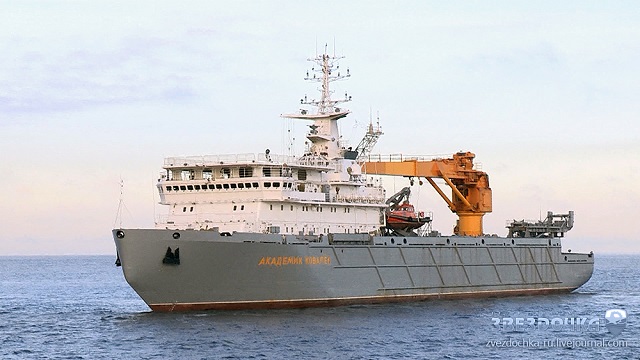 Project 20180TV Academician Kovalyov in sea trials
Picture from zvezdochka-ru

"The Academician Kovalyov moored at Zvyozdochka's berth, having completed its official test program in almost three weeks," the press office said. "The hardware will be checked out soon, and the ship will be prepared for delivery. The St. Andrew's flag will be hoisted onboard the Academician Kovalyov and the advanced armament support ship will thus be commissioned for service with the Russian Navy on December 18."

At present, Zvyozdochka is building the third and fourth ships in the series - the Academician Alexandrov and Academician Makeyev. According to the press office, Russian-made components will substitute for the imported ones in the latter.

The Project 20180TV Academician Kovalyov reinforced ice-class armament support ship was set afloat in summer 2014 for outfitting. The ship is designed for handling and carrying naval armament. It has a total displacement of about 6,000 tons, a length of 107.6 m and a maximum speed of 14 knots. The project 10180TV armament support ships mount three cranes of two types and of different lifting capacity. The transport carries a Kamov Ka-27 (NATO reporting name: Helix) helicopter or a derivative thereof. The Russian Defense Ministry awarded the order for the Academician Kovalyov in September 2011. The Project 20180TV armament support ship was derived from the Project 10180 Zvyozdochka seagoing rescue tug built by the Severodvinsk-based shipyard and delivered in 2010.

© Copyright 2015 TASS. All rights reserved. This material may not be published, broadcast, rewritten or redistributed.