a
Naval Forces News - Singapore
Republic of Singapore Navy Venus 16 USV Capabilities Tested during Joint Exercise
It looks like any normal day off Singapore's coast. Merchant ships, military warships and coast guard vessels ply the straits in a mishmash of routes and destinations. From behind that veil of normalcy, a speedboat emerges. It is heading to a key installation located along Singapore's coast. Some distance away, a suspicious merchant vessel also heads towards Singapore.

From a bystander's point of view, nothing is wrong. But the Singapore Maritime Crisis Centre (SMCC) knows better. The speedboat is in protected waters, and the merchant vessel is not following its proper course. After running checks, it is confirmed that the merchant vessel has been hijacked.

Something has to be done.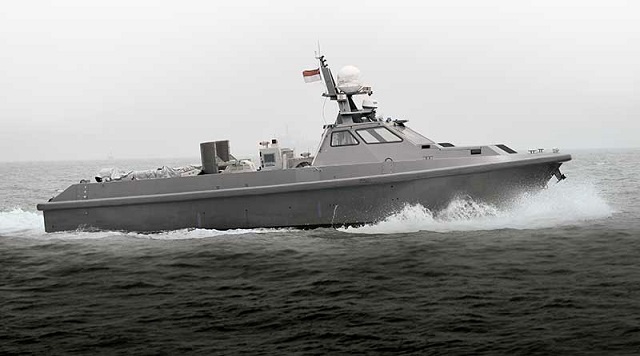 The Venus 16 USV was put through its paces during Exercise Highcrest for the first time.
Picture: Chai Sian Liang & Kenneth Lin / RSN
Rapid response

An Unmanned Surface Vessel (USV) is despatched to intercept the speedboat. The Police Coast Guard (PCG) is also tasked to take the speedboat down with its interceptor craft. The speedboat is stopped dead in its tracks before it can even get close to the key installation.

A small armada is also sent to swiftly deal with the hijacked merchant vessel.

A Republic of Singapore Navy (RSN) patrol vessel and the PCG intercept the merchant ship. The Special Operations Task Force, elite soldiers from the Singapore Armed Forces (SAF), arrive via helicopter and fast craft to storm the ship and wrest control from the hijackers.

During the capture of the hijackers, a fire breaks out. The Singapore Civil Defence Force (SCDF) moves in to douse the flames, while the Maritime and Port Authority of Singapore (MPA) contains the resulting oil spillage.

With the hijackers subdued and fire put out, the merchant vessel is taken into port where the Immigration and Checkpoints Authority (ICA) and Singapore Customs board the ship to investigate its crew and cargo.

In less than an hour, the seas are back to normal again. Beyond the drama, there is a highly coordinated team from the SMCC orchestrating the takedown.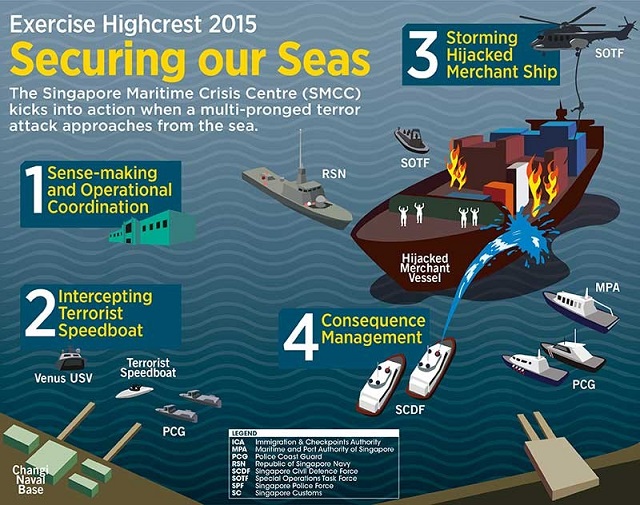 More about the USV

The Unmanned Surface Vessel (USV) used in Exercise Highcrest 2015 is the Venus 16 USV manufactured by Singapore Technologies Engineering.

The 16m-long craft is equipped with advanced sensors and software to automatically correct its course and speed to avoid collisions. It has been deployed in trials to patrol Singapore's waters. The use of such USVs will allow the deployment of a smaller number of manned assets and sustain operations over longer periods.

The Venus 16 USV can also be equipped with sonar to conduct underwater scans of the seabed for mine counter-measure operations.