a
Naval Defense Industry News - Sweden, India
Saab Offers India to Collaborate on "Sea Gripen" Naval Variant of the Gripen NG Fighter Jet
According to Indian daily newspaper The Economic Times, Sweden's defence company Saab is proposing India a collaboration to develop a naval variant of the Gripen NG aircraft, the Sea Gripen.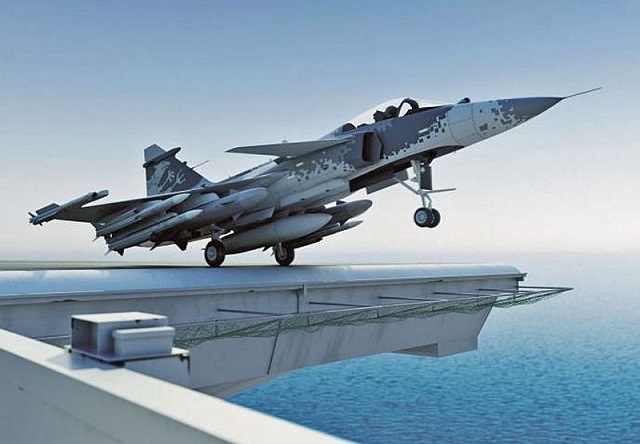 Sea Gripen launching from an aircraft carrier
(Picture: Saab)
According to the Indian daily, Saab sees great opportunity for technology transfer with India and sees Brazil and Thailand as other potential customers for the Sea Gripen. The naval variant of the Gripen NG could be an alternative to the Naval LCA, a new aircraft developped in India. While the Indian Navy supports the program, unerctainty remains as the Indian Air Force has cast some doubts over its commitment to the program.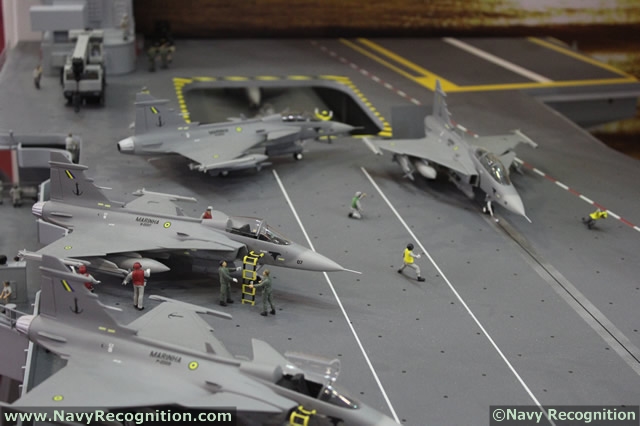 A scale model the Brazilian Navy Sao Paulo aircraft carrier with several "Sea Gripens" on the deck was shown recently by SAAB during the LAAD 2013 defense exhibition in Brazil
In
May 2013
, Saab test pilots verified the "natural vocation" of Gripen to become a naval fighter.
According to Saab, the characteristics of the Gripen D in fact possess flight qualities compatible with the ones desirable for naval aircraft based on aircraft carriers. The accuracy of flight controls, stability at low speeds, the rapid response of the motor acceleration (which, by the way, is the same engine fitted to the F/A-18 Hornet) and AOA great rapprochement that allows good visibility gives Gripen excellent credentials which may lead the Sea Gripen project to a paradigm shift in the aerospace industry.