a
Naval Defense Industry News - India, Russia
Testing of BrahMos Anti-Ship Cruise Missile From Su-30MKI Delayed to Mid-2016
The test trials of the air-launched variant of the BrahMos anti-ship cruise missile that were due to begin in March 2016 have slipped to mid-2016. According to the Times of India daily the reason is the missile launch unit has not been certificated yet.

"The trials have slipped to mid-2016, because the certification of the missile launch unit is still under way. The launch unit's tests will take 40-45 days, and then there will be the first flight of a fighter carrying the missile with an inert warhead. The first flight with the live-warhead missile will take place only in mid-2016," the newspaper said.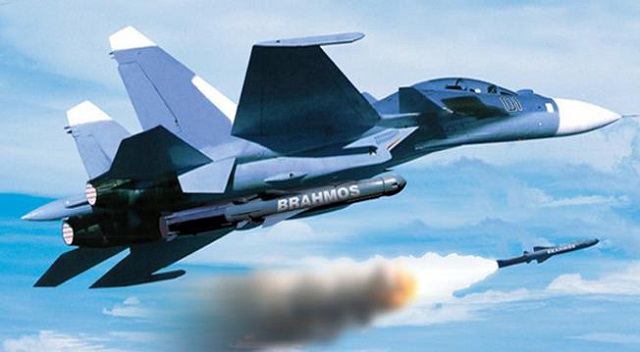 Artist impression: Brahmos missile air launched variant with Su-30MKI
As was reported in the press, the testing of the BrahMos supersonic cruise missile's air-launched variant was scheduled to start around March 2016. The first launch of the missile integrated with two Sukhoi Su-30MKI (NATO reporting name: Flanker-H) fighters was expected in April 2016. In all, there are four such launches planned. There will be a drop test of a cruise missile mock-up followed by that of a technology demonstrator with integral sensors designed to gauge its flight and technical characteristics.
A Su-30MKI fighter has been modified to accommodate the air-launched BrahMos (BrahMos-A). The launcher is reported to be in validation trials, which completion was expected by December 2015.
The Indian Air Force is going to field the BrahMos with three air regiments operating Su-30MKI fighters. Making the type accommodate the missile has necessitated modifications to its design, particularly, a redistribution of primary structure loading. To facilitate the integration, the weight of the weapon has been slashed by 500 kg and its length by almost 50 cm.
The BrahMos measures 9 m in length and 70 cm in diameter and carries a 300-kg warhead to a maximum range of 290 km at a velocity of 2.8 Mach (i.e. 2.8 times faster than sonic speed). The missile has entered service with the Indian Army and Navy. The first test of a version designed for submarine launch took place in March 2014.
© Copyright 2015 TASS. All rights reserved. This material may not be published, broadcast, rewritten or redistributed.
The Brahmos missile comes in four variants:
-
Ship launched
-
Submarine launched
-
Land launched
- Air launched