a
Naval Industry News - Russia
Project 22800 Corvettes to be Fitted with Pantsir-M Naval Variant of Pantsir-S1 Air Defense System
Project 22800 corvettes will in the future be armed with ship-based air defense systems, specifically, Pantsir-M air defense missile/gun system, Vice-Admiral Victor Barsuk, Russian Navy Deputy Commander for armaments, said.

"The ship is highly upgradable and in the future will be outfitted with ship-based air defense systems like Pantsir-M," Barsuk specified.
Pantsir-M Project as showcased by KBP during IMDS 2015 maritime defense exhibition in St Petersburg. Image via BMPD/Michael Zherdev
Russian Deputy Defense Minister Yuri Borisov previously declared that Project 22800 small missile ship will be armed with Kalibr missile system and an artillery mount. In the future, it may receive modern air defense systems.
Two Project 22800 small missile ships
were laid down on December 24
, 20115 at the Pella shipyard, Leningrad region.
The lead ship of the Project, named Uragan /Hurricane/ is to join the Russian Navy in December 2017. The first serially produced ship, Typhoon, will be deployed in 2018.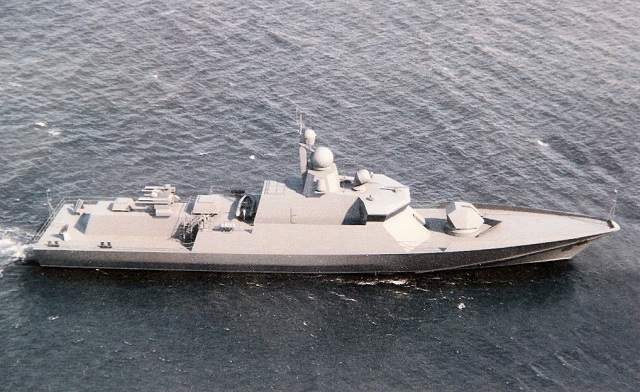 Artist impression of Project 22800 Corvette with Pantsir-M Air Defense System at the stern. The first vessels in the class (Uragan and Typhoon) will be fitted with AK-630 CIWS gun instead.
In
July 2015
it was reported that the Pantsir-M air defense missile/gun system, designed for arming the Russian Navy ships, has been put into series production. One combat module of the Pantsir-M system can simultaneously engage four targets with four missiles, additionally attacking survivor targets by artillery armament in an automatic mode. This insures unfailing destruction of attacking targets and highly reliable air defense of the ship. The module ammunition supply is 32 missiles. The ship-based complex may include several combat modules. The module ammunition supply is stored in the storage and reloading system under the deck. The ship model of the system may be fitted with both anti-aircraft guided missile from the Pantsir-S package and an advanced Hermes-K missile with a firing range of up to 100 km. In the latter case the designation can be supplied to the ship from an unmanned aerial vehicle. Compared to the guided air defense missile of the Pantsir-S system, Hermes-K has a more powerful HEF warhead and is fitted with a seeker for high precision engagement of waterborne and land-based targets. In the future, the Pantsir-M ADMG system must replace the Kortik counterpart.
© Copyright 2015 TASS. All rights reserved. This material may not be published, broadcast, rewritten or redistributed.