a
Naval Industry News - Russia
Russia's OSK Shipyard to Have Technological Capabilities to Build Aircraft Carriers from 2019
The United Shipbuilding Corporation (OSK) will have the technological capabilities to build helicopter carriers and aircraft carriers starting from early 2019, OSK Director General Alexei Rakhmanov has told the Russia 24 TV broadcaster in an interview. "We will be prepared for helicopter carrier construction just like we are prepared for building aircraft carriers," he said.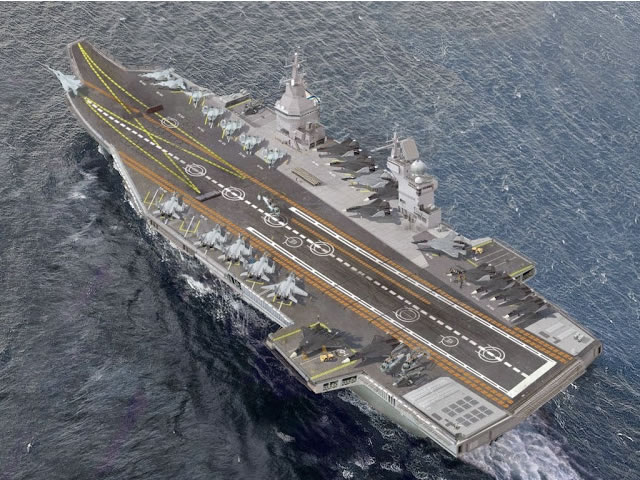 A nuclear powered Project 23000E Storm aircraft carrier may displace 80,000 to 85,000 tonnes with some 70 aircraft on board.
"Speaking of the technological capabilities of aircraft carrier construction, we expect them, most probably, by early 2019 once the planned modernization has been completed. This will afford us a degree of preparedness enabling us to build superships, be them civil or military," Rakhmanov added.

According to him, OSK possesses the aircraft carrier design and construction competences. "The personnel capabilities of the companies in Russia's Northwest allow us to set up internal corporative ties that will ensure the transfer of the competences," the OSK director general said.

About 75% of OSK's order book is orders placed by the Russian Defense Ministry, with the rest being those awarded by foreign customers and civilian operators.

"As of now, we have a rather good order book, with about 75% of it made up by orders from the Defense Ministry. The rest are those we are executing as part of military technical cooperation and civil shipbuilding," Rakhmanov said.

He stressed that the manufacturer "has made a lot of efforts to fulfil as much of its defense procurement program as possible", but has been unable to fulfil 100% of it for a number of reasons. "First of all, this is due to a rather big number of lead ships we have to build. They are complex products, and much development work has to be performed first before they are built," he added.

OSK's 2015 proceeds will be about 317 billion to 318 billion rubles ($4.5 billion) and its net profit to total the record-breaking 14 billion to 15 billion rubles ($197 billion-$212 billion). "This year, the proceeds will increase over 2014. We expect them to be 317 billion to 318 billion rubles. Our profit is to grow too compared with 2014. Most probably, it will equal 14 billion to 15 billion rubles. Actually, this is another record," Rakhmanov told the Russia 24 TV channel in an interview.

At the same time, the OSK head noted it was too soon to balance the books, because the situation will be clear in January 2016. In 2014, the corporation's net profit accounted for the record-setting 11.7 billion rubles ($165 million) and its proceeds stood at 281 billion rubles ($4 billion).

© Copyright 2015 TASS. All rights reserved. This material may not be published, broadcast, rewritten or redistributed.

Navy Recognition's comment:
Earlier this year, the Nevskoye Design Bureau's CEO, Sergey Vlasov, told TASS that the corporation was pushing ahead with research into an aircraft carrier of the future entirely of its own accord, without any terms of reference from the Navy to rely on. Vlasov speculated there may be two projects: a nuclear-powered ship with a displacement of 80,000-85,000 tonnes and some 70 aircraft on board. A non-nuclear aircraft carrier having a displacement of 55,000-65,000 tonnes will be able to carry 50-55 aircraft.