a
Naval Industry News - Russia
Russia's "Admiralty Shipyards" to Deliver 7 Submarines to Domestic & Foreign Customers by 2018
The Admiralty Wharves Shipyard (JSC "Admiralty Shipyards"), part of Russia's United Ship-Building Corporation (OSK), is planning to deliver seven submarines and an icebreaker to Russian and foreign customers by 2018, Shipyard CEO Alexander Buzakov told TASS on Wednesday.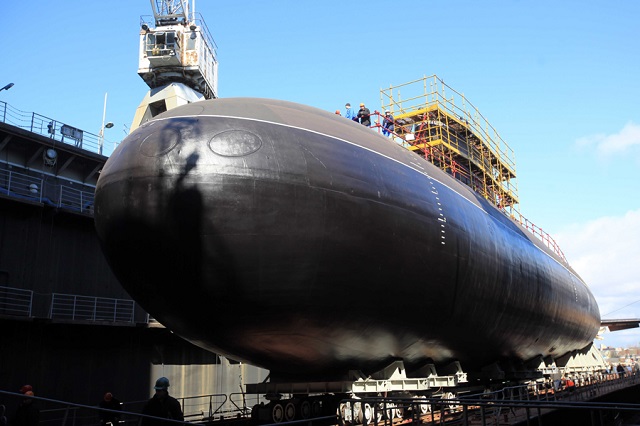 "Krasnodar" (B-265), the fourth Project 636.3 (or Varshavyanka class) diesel-electric submarine (SSK)
"The shipyard is planning to deliver eight vessels to their customers before 2018," the CEO said. "In particular, the Russian Navy will receive three submarines and an icebreaker. Four submarines will be delivered to foreign customers within the framework of military and technical cooperation," he added without specifying the type of submarines.

JSC "Admiralty Shipyards" continues the construction of the last two submarines of Project 636.3 according to the contract: the "Veliky Novgorod" (B-268) and the "Kolpino" (B-271), both hulls were laid down on October 30, 2014.. They are excepted to be ready for the Russian Navy in 2016.

The shipyard is also building two Project 677 Lada-class conventional submarines Kronstadt and Velikiye Luki.
The Admiralty Wharves Shipyard is also building a series of Project 636 submarines for the Vietnamese Navy and is expected to construct another two Project 636 submarines for Algeria.

The Admiralty Wharves Shipyard is one of the oldest shipyards in Russia. In 2014, the shipyard celebrated its 310th anniversary. The Admiralty Wharves Shipyard has built almost 3,000 vessels of various purposes, including the famous cruiser Aurora and the first nuclear-powered icebreaker Lenin. Today, it is the leading manufacturer of conventional submarines in Russia.

© Copyright 2015 TASS. All rights reserved. This material may not be published, broadcast, rewritten or redistributed.