a
Naval Forces News - USA
Military Sealift Command and MV-22 Osprey Make History During Bold Alligator 2012
The U.S. Navy issued the following press release:
For the first time in an at-sea exercise, an MV-22 Osprey landed aboard a Military Sealift Command (MSC) ship while conducting a proof of concept test during Bold Alligator 2012 (BA12) Feb. 9.

The Osprey, flown by the Fighting Griffins of VMM-266, landed aboard USNS Robert E. Peary (T-AKE 5), loaded with four pallets of cargo, refueled and flew off to deliver its supplies directly to Marine Corps units operating more than 150 miles away near Ft. Pickett, Va.

The combined Marine Corps Combat Development Command Combat Development Directorate Seabasing Integration Division and Marine Corps Warfighting Lab experiment tested the concept of utilizing the Osprey and T-AKE platforms to bring increased capabilities and efficiency to the resupply and sustainment of ground units ashore.

In the near future, three of the 14 T-AKE ships operated by MSC will be dedicated to maritime prepositioning ships squadrons, serving the logistics needs of Marine Corps units.

"Bold Alligator gets us back to the Navy and Marine Corps' fundamental role of power projection from the sea," said Commander, MSC, Rear Adm. Mark H. Buzby. "It also gives us an opportunity to try new concepts, like this. The last time we conducted a major amphibious exercise on the East Coast neither the Osprey nor the T-AKE were operational."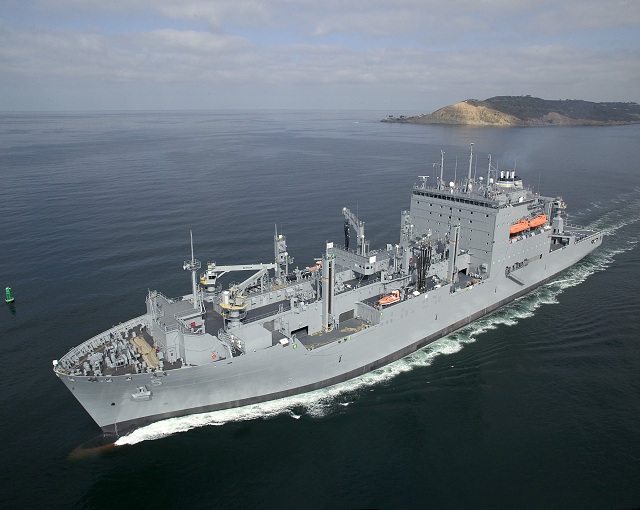 USNS Robert E. Peary (T-AKE 5)
For the first time in an at-sea exercise, an MV-22 Osprey landed aboard a MSC ship
Bold Alligator 2012 exercise
(Picture: U.S Navy)

The Osprey adds increased capabilities in terms of range, speed and payload over the current method of utilizing helicopters or landing craft to transport supplies ashore. Previously, supplies heading to shore needed to be transported from an MSC ship to the large-deck amphibious ship in the Expeditionary Strike Group (ESG). Once the supplies were aboard a ship within the ESG, transportation to shore was accomplished via helicopter or landing craft. Now, with the Osprey and T-AKE working together, Marine Corps units on the ground have a direct connection to the supplies they need while also increasing their operational sustainability over the full range of missions and simultaneously freeing up helicopters, landing craft and other ESG ships to focus on different tactical needs.

The event also marked the first time that an MSC civilian crew loaded and refueled an Osprey. Before Bold Alligator began, Peary's flight deck and cargo teams had a one day familiarization with the Osprey on dry land at Marine Corps Air Station, New River. The next time they saw an Osprey was during the operation at sea, on Peary's flight deck while pitching and rolling with the ocean.

"I thought this was great," said Lance Cpl. Matthew McGriff, 2nd Supply Battalion, Supply Co., Supply Management Unit, Customer Service. "I never thought I'd ever get to sea as a Marine, so this test has been really interesting. Supporting expeditionary Marines is what I do, so seeing what the Osprey and T-AKE can do together is really impressive."

By Lt. j.g. Michael Sheehan, Bold Alligator Public Affairs