a
DIMDEX 2012 - Show Daily News
KVH to showcase its Dual-band Maritime VSAT Solution with Global Coverage at DIMDEX 2012
February 1, 2012 – Maritime VSAT market leader KVH Industries, Inc., (Nasdaq: KVHI) today announced a major upgrade to its mini-VSAT BroadbandSM network with the addition of global C-band satellite coverage overlaying its industry-leading Ku-band footprint. This first-of-a-kind, unified dual-band maritime satellite communications network will provide multi-megabit service covering 95% of the Earth's surface, including all of the world's major shipping routes, offshore oil fields, and commercial fishing grounds. It will be the first next-generation global VSAT network using a single, relatively small antenna to provide offshore connectivity to vessels almost anywhere they travel.

Along with the enhanced satellite coverage, KVH also introduced the TracPhone® V11 satellite communications system, a revolutionary new onboard terminal that uses a single, stabilized antenna with a unique dual-band transmit and receive capability to seamlessly switch between the mini-VSAT Broadband network's global C- and Ku-band satellite coverage. The TracPhone V11 system provides the same high-quality connectivity, including both voice and broadband data, regardless of the type of satellite connection.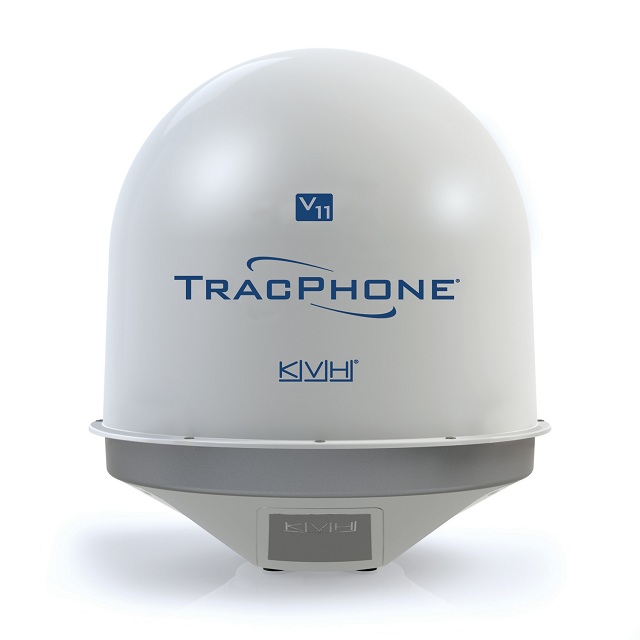 KVH Industries TracPhone V11 radome
"Our mini-VSAT Broadband network's new, global C-band overlay coverage offers our maritime customers the type of next-generation service they've needed to replace expensive legacy services and still provide the global coverage that they have not been able to get from stand-alone Ku-band maritime VSAT services," said KVH's CEO, Martin Kits van Heyningen. "The 1-meter TracPhone V11 antenna is smaller and lighter than most stand-alone Ku-band antennas, and more than 85% smaller and lighter than the gigantic 1,500 pound, 3.3 meter C-band domes used with older VSAT technology. The best part is that it's one system, not two different antennas like competing products. Further, the same below-decks modem is used for both the C- and Ku-band for a truly seamless and unified solution for the customer. Unlike hybrid systems that use different technologies, this is a pure VSAT solution delivering unified service and hardware that translates to higher quality data connections. IT managers don't have to contend with trying to use different networks with different latencies, IP settings, or protocols to run their onboard applications," he added.

With approximately 2,000 systems sold, the mini-VSAT Broadband network is already the largest maritime VSAT service and it features the broadest Ku-band coverage area. Both the C- and Ku-band services are delivered using ArcLight® proprietary spread spectrum technology, which is provided by KVH's technology partner, ViaSat (Nasdaq: VSAT). Just as spread spectrum 3G technology replaced older TDMA 2G technology to revolutionize the mobile phone industry, the spread spectrum technology used in the mini-VSAT Broadband network provides faster, higher-quality service to smaller, more powerful onboard terminals than older VSAT technology.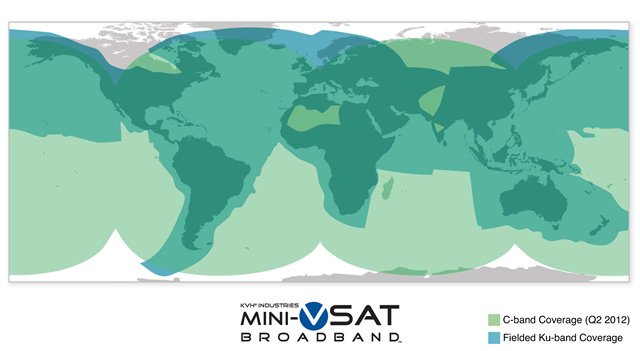 KVH Industries dual-band mini-VSAT Broadband coverage
The TracPhone V11 and the enhanced mini-VSAT Broadband service provide vessels travelling between 75°N and 70°S latitude with broadband data connections for accessing the Internet or shore-side business networks or for making low-cost, high-quality voice calls. In most areas, the mini-VSAT Broadband service will use powerful Ku-band transponders to provide the TracPhone V11 with high-speed downloads at rates up to 4 Mbps. KVH's Ku-band mini-VSAT Broadband service not only provides the widest coverage of any maritime VSAT service, it also has wide regulatory approval for coastal and in-port use. In areas outside of its Ku-band coverage and for redundant backup service, the TracPhone V11 automatically switches over to powerful C-band global beams. The C-band service has a much longer wavelength than Ka-band services, providing improved resilience to rain and other adverse weather conditions.

KVH already has customers lined up for the new global C/Ku-band offering, and expects to ship sample TracPhone V11 units during Q2. Full service is expected to be available for commercial use at the end of June, 2012.

About KVH Industries, Inc.
KVH Industries is a leading manufacturer of solutions that provide global high-speed Internet, television, and voice services via satellite to mobile users at sea, on land, and in the air. KVH is also a premier manufacturer of high performance sensors and integrated inertial systems for defense and commercial guidance and stabilization applications. The company is based in Middletown, RI, with facilities in Illinois, Denmark, Norway, and Singapore.

Visit KVH Industries at DIMDEX 2012: USA Pavilion - Booth #N-216