a
Naval Forces News - Russia
Russia's Pacific Fleet Maritime Patrol Aircraft Hold ASW Drill in Sea of Japan
Naval aircraft of Russia's Pacific Fleet have practiced searching for a simulated enemy's submarine in the Sea of Japan during anti-submarine defense drills, Russian Eastern Military District spokesman Roman Martov said on Thursday. "Ilyushin Il-38 [NATO reporting name: May], Il-38N and Tupolev Tu-142MZ [Bear-F Mod 4] anti-submarine aircraft are accomplishing various flight tasks both in the daytime and at night," Martov said.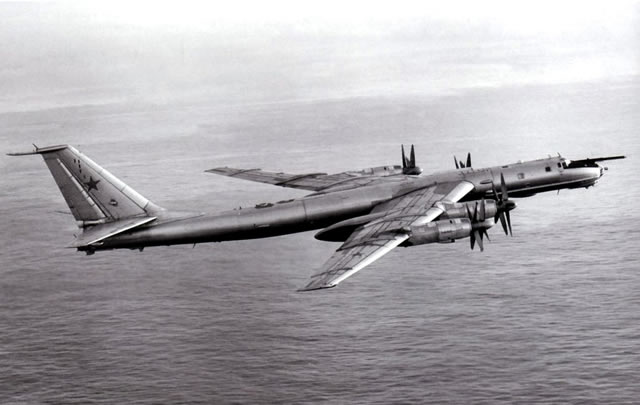 The Tu-142MZ (NATO Designation Bear-F Mod 4) is the latest variant of the Tu-142 series. It was in production until 1994. Picture: US Navy
"The aircraft have held several exercises to practice searching for and identifying a simulated enemy's submarines in the Sea of Japan," he added.

According to the spokesman, the Pacific Fleet's Project 877 conventional submarine simulated the enemy's submarine.

The pilots also improved their flight skills flying over featureless terrain for more than 10 hours, he added.

"During training flights, the pilots are practicing cohesion with Pacific Fleet ships and Eastern Military District aircraft and troops," Martov added.

It was reported earlier that Il-38N anti-submarine aircraft had started performing flights at the air base of the Pacific Fleet's naval aviation in Elizovo in Kamchatka in the Russian Far East as part of the winter combat training program. The Tupolev Tu-142 is a maritime reconnaissance and ASW aircraft derived from the Tu-95 turboprop strategic bomber. Its first flight occured in 1968 while the latest variant (Tu-142MZ) was produced until 1994. The aircraft is fitted with two weapon bays with a total capacity of 11,340 kg combat load for:
- Sonobuoys (RGB-15/25/55A/75)
- Up to 12 torpedoes (APR-2, APR-3 and UMGT-1)
Typical loadout being 126 sonobuoys and 6 torpedoes

© Copyright 2015 TASS. All rights reserved. This material may not be published, broadcast, rewritten or redistributed.