a
Naval Forces News - Italy, France
Joint Maritime Security Exercise for ITS Carabiniere & French Navy Floreal Frigates
Deployed since October 2015 in the Indian Ocean as EU counter-piracy Operation Atalanta flagship, in recent days ITS Carabiniere conducted a joint exercise with French frigate FS Floreal. The exercise, held in international waters, was aimed at enhancing units' interoperability and operational effectiveness, in order to ensure safer shipping lanes across these equatorial seas which are constantly threatened by piracy.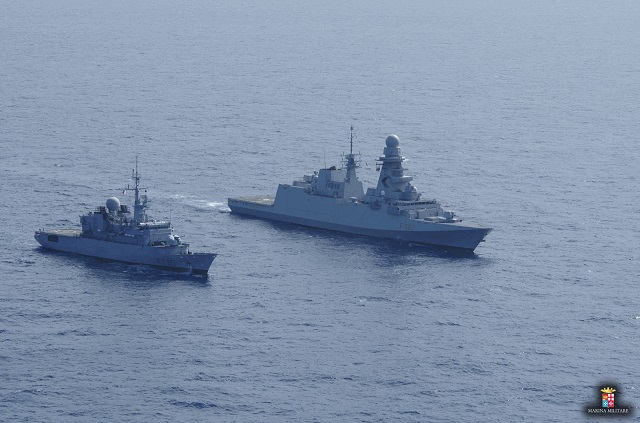 French Navy Frigate Floreal (left) sailing alongside Italian Navy FREMM ITS Carabiniere (right).
Picture: Italian Navy

For three French officers on board the Italian frigate and three Italian officers embarked on the French warship, it was an opportunity for intensive exchange of experience and expertise. During a 5-day port call at Port Victoria (Seychelles), the EU Task Force Commander participated in the international "Senior Leader Maritime Security" Symposium, within the annual Exercise Cutlass Express 2016, with the frigate FS Floreal.

Having raised her anchor at dawn, ITS Carabiniere met FS Floreal to conduct a joint exercise off Port Victoria, the main island of this Indian Ocean archipelago. Before unmooring, the frigate's bottom was inspected by divers of the Italian Navy Operational Divers Group, in order to prevent any threat.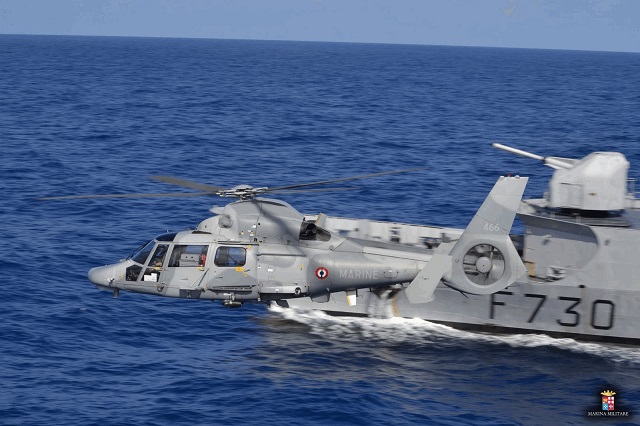 French Navy Panther helicopter from the Floreal frigate.
Picture: Italian Navy

The crews intensively trained in a variety of activities including close cinematic manoeuvres, signal lamp communications, flight operations using the two ships' embarked helicopters, and shooting exercises. It was an important "training on the job" opportunity, tailored to real world operational scenarios characterised by increasingly urgent need for force integration and coordination capabilities.

ITS Carabiniere embarks Rear Admiral Stefano Barbieri, Force Commander of the EU Naval Force (EUNAVFOR) Somalia, while the ship Commanding Officer, Commander Francesco Saladino, is responsible for 199 military personnel, including crewmembers and international staff, who have been embarked for 4 months on the Italian frigate.

FS Floreal is permanently based in La Réunion, one of the major French harbours after Toulon and Brest, where she conducts maritime surveillance and patrol missions to provide maritime security, countering illegal activities such as drug trafficking and piracy.