a
Naval Forces News - Russia
Russian Navy Mistrals to be fitted with Offensive Weapons
According to ITAR-TASS citing a source in Russian defense industry newest Russian strike and defensive weapon systems including supersonic cruise missiles will be fitted on all four Mistral-class amphibious assault ships built for Russian Navy in France and Russia.

"As is planned, first two French-made ships and other two helicopter-carriers built in Russia will be armed with state-of-the-art Russian weapon systems including supersonic cruise missile launchers, and advanced missile/air/submarine defense systems", specified the source.

Mistrals will accommodate attack and ASW helicopters, artillery, amphibious landing craft, boats, armored vehicles and other weapon systems, he added.

Russian arms will be mounted on French-built Mistrals by one of Russian defense companies once ships reach Russia from Saint-Nazaire (the French shipyard where the Mistral are being built) pointed out the source.

Russian General Staff confirmed that information. "We don't need unarmed landing ships like French Navy has. In fact, such Mistrals are huge ferries equipped with up-to-date combat control, navigation, reconnaissance and communication systems. They are a sort of vulnerable floating command posts need to be protected from the sea and the air by other ships and aviation", said a spokesman for Russian General Staff.

"Russian assault landing ships must be capable not only to control of task forces comprising surface ships, submarines, and naval aviation, or even inter-branch groupings worldwide; not only to lift and land marines on armored personnel carriers, helicopters, and amphibious boats, but must possess sufficient strike power to be full-fledged self-protected multi-functional warships within those task forces", he emphasized.

"With this in view, Russian Mistrals will be armed with long-range cruise missiles, newest air/missile defense systems, and antisubmarine weapons", concluded the official.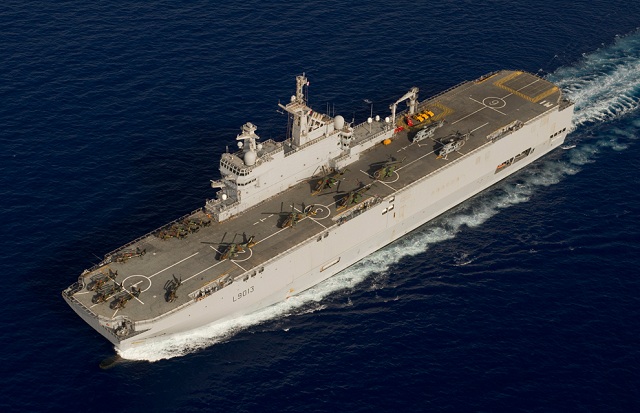 DCNS Mistral class used by the French Navy and soon by the Russian Navy
(picture: French Navy)

Russian Navy Commander-in-Chief ADM Vladimir Vysotsky told reporters on Feb 16, 2012 that Mistral-class assault landing ships built for Russia would be armed only with Russian weapons. "We're going to mount missile systems for self-protection of our ships to improve their air defenses", the admiral said. "Also, we will reinforce helicopter component with antisubmarine capabilities", he added. Vysotsky stressed that such ships were important as "an element of a task force, they can considerably strengthen its combat worthiness". By the way, the commander said Mistral-class ships built for French Navy were not equipped with such arms.

Commenting of the EUR 1.2-bln delivery contract for two Mistral-class assault landing ships signed on June 17, 2011 in the presence of Russian president Dmitry Medvedev, the Navy Commander said that "a well-equipped command post on board those ships makes possible to control forces at any distance from bases all across the globe". "Construction technology applied allows integration of Russian weapon systems including amphibious craft and deck-based aviation", emphasized Vysotsky. "Such vessel can be used as command ship coordinating operations of a task force deployed at any regions worldwide for peacekeeping and humanitarian purposes. By the way, Mistral's capabilities of this kind considerably outclass current Russian Navy's ships", Vysotsky said.

"Those features of Mistral ships make them essential for Russian Navy throughout the whole range of tasks in war and peacetime", said the Navy Commander. At present, France builds the first ship for Russia laid down on Feb 1 in Saint-Nazaire. She is expected to joint Russian Navy in 2014, the second one – in 2015.

In particular, those ships will accommodate Russian attack helicopters Ka-52 Alligator which adaptation for shipborne service had finished in Sept 2011 at Northern Fleet.

According to the contract, France will transfer a number of "sensitive technologies" to Russia, including tactical data system SENIT-9 standard for Mistral-class ships. Later on, those technologies will be used in other two ships to be constructed by Russian shipyards.

One Mistral-class assault landing ship displaces 21,000 tons, has overall length of 210 meters, is capable to accommodate up to 16 heavy helicopters, and deliver up to 900 servicemen and 70 combat vehicles to assigned region.
From: Itar-Tass